Roger Ebert's 'Life Itself: A Memoir' Will Be Released On September 13th 2011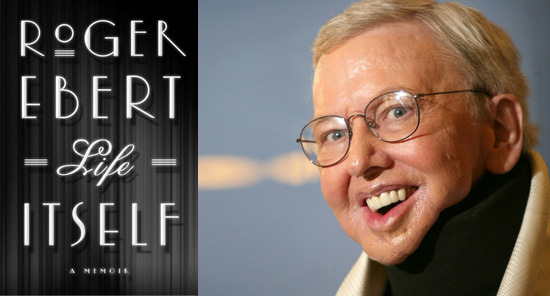 We may receive a commission on purchases made from links.
Beloved film critic Roger Ebert's new 448-page book Life Itself: A Memoir will be released in hardcover on September 13th 2011, and is now available for preorder. The book tells the story of Ebert's life, and his rise and journeys as the most popular film critic in cinema history. Ebert has posted the introduction chapter, titled "Memory", on his Chicago Sun Times blog. Hit the jump to read the book description.
Official Book Description:
Roger Ebert is the best-known film critic of our time. He has been reviewing films for the Chicago Sun-Times since 1967, and was the first film critic ever to win a Pulitzer Prize. He has appeared on television for four decades, including twenty-three years as cohost of Siskel & Ebert at the Movies.
In 2006, complications from thyroid cancer treatment resulted in the loss of his ability to eat, drink, or speak. But with the loss of his voice, Ebert has only become a more prolific and influential writer. And now, for the first time, he tells the full, dramatic story of his life and career.
Roger Ebert's journalism carried him on a path far from his nearly idyllic childhood in Urbana, Illinois. It is a journey that began as a reporter for his local daily, and took him to Chicago, where he was unexpectedly given the job of film critic for the Sun-Times, launching a lifetime's adventures.
In this candid, personal history, Ebert chronicles it all: his loves, losses, and obsessions; his struggle and recovery from alcoholism; his marriage; his politics; and his spiritual beliefs. He writes about his years at the Sun-Times, his colorful newspaper friends, and his life-changing collaboration with Gene Siskel. He remembers his friendships with Studs Terkel, Mike Royko, Oprah Winfrey, and Russ Meyer (for whom he wrote Beyond the Valley of the Dolls and an ill-fated Sex Pistols movie). He shares his insights into movie stars and directors like John Wayne, Werner Herzog, and Martin Scorsese.
This is a story that only Roger Ebert could tell. Filled with the same deep insight, dry wit, and sharp observations that his readers have long cherished, this is more than a memoir-it is a singular, warm-hearted, inspiring look at life itself.
"I believe that if, at the end, according to our abilities, we have done something to make others a little happier, and something to make ourselves a little happier, that is about the best we can do. To make others less happy is a crime. To make ourselves unhappy is where all crime starts. We must try to contribute joy to the world. That is true no matter what our problems, our health, our circumstances. We must try. I didn't always know this, and am happy I lived long enough to find it out."
-from LIFE ITSELF