TV Bits: Tricia Helfer Goes To Work For 'The Firm', Bryan Cranston To Make 'Simpsons' Guest Appearance, Ryan Reynolds Sells Comedy Script, Showtime Greenlights Three Pilots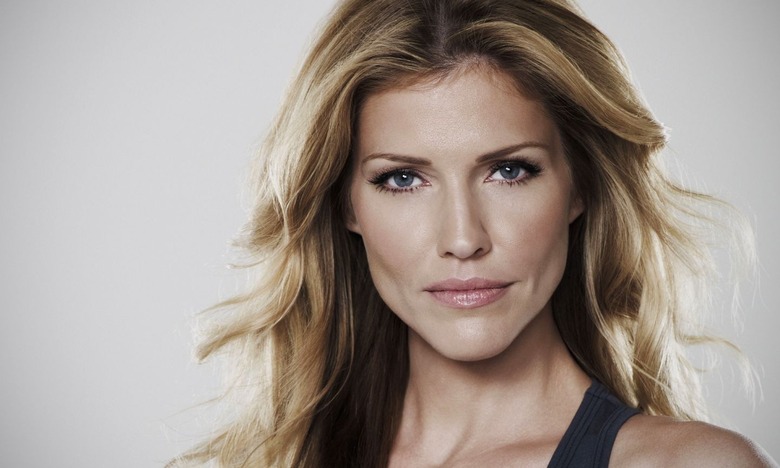 Battlestar Galactica star Tricia Helfer has signed up for NBC's The Firm, based on the bestselling John Grisham novel of the same title. (The book was also turned into a 1993 film starring Tom Cruise.) Helfer will be playing Alex Clark, a senior partner at the central law firm of Kinross & Clark. The project reuintes her with fellow Cylon Callum Keith Rennie.
The story revolves around an attorney named Mitch McDeere (Josh Lucas) and his wife Abby (Molly Parker), who are trying to make a new life for themselves in D.C. When Mitch gets brought in as a partner at Kinross & Clark, he slowly comes to realize that the firm isn't exactly what it seems. Juliette Lewis co-stars as Mitch's receptionist, and Rennie as Mitch's older brother.
Helfer's demonstrated some impressive acting chops during her time at BSG, and the role of a tough, morally iffy lawyer seems like a perfect fit for a woman made famous by her role as a tough, morally iffy Cylon. I look forward to many shots of Lucas looking simultaneously entranced and terrified. [TV Line]
After the jump, Bryan Cranston gets cast in something. Plus: Ryan Reynolds teams up with Tyler Labine, and Showtime greenlights a trio of pilots.
The 23rd season of The Simpsons kicks off September 25 on Fox. Among the other names signed up for guest stars this season are Jane Lynch, Michael Cera, Jeremy Irons, Joan Rivers, and Kiefer Sutherland. [Entertainment Weekly]
Ryan Reynolds is known internationally for his work in front of the camera, but it seems he's working on building up a behind-the-scenes resume as well. Reynolds and 20th Century Fox Television have just sold a script titled Guidance with significant penalty to Fox through Reynolds' production shingle, Dark Fire. Tyler Labine is set to executive produce and star in the series, which is being described as a "single-camera adult buddy comedy set in a high school." The type of deal indicates a higher level of commitment from the network than a regular script order, and suggests that the project will likely get at least a pilot.Tim Dowling (Role Models) is writing and will also executive produce with Reynolds' Dark Fire colleagues Jonathon Komack Martin, Steven Pearl, and Allan Loeb. Guidance is part of a first-look deal between Fox and Reynolds' company, which launched in May. [Variety]
Showtime's chief of entertainment David Nevins has given the green light to a trio of very different pilots. First, there's intriguingly titled Masters of Sex, an hourlong drama based on Thomas Maier's book of the same title. The plot centers around the relationship between historical sexual research pioneers William Masters and Virginia Johnson. The two originally met when Masters hired Johnson as his research assistant, and had a professional and romantic relationship that lasted decades — so there should be plenty of fodder for an ongoing TV drama. Michelle Ashford (John Adams) is writing the script, and is set to executive produce with Sarah Timberman and Carl Beverly (Justified).
Next, there's a "first-person, half-hour docu-comedy" by Andrew Gurland (The Virginity Hit), titled Gurland on Gurland. Gurland will be writing, directing, executive producing, and starring in the semi-autobiographical project, which will follow his attempts to move into the next stage of his career. Glenn Gordon Caron (Medium) is also set to exec produce.
And finally, there's Ray Donovan, by Southland creator Ann Biderman. The dark but comedic hourlong drama will take place in Los Angeles and focus on a fixer who can't fix his own life. Mark Gordon (Grey's Anatomy) is attached to executive produce. My guess is that if this show gets picked up, we can look forward to lots of episodes about the protagonist taking on jobs that turn out to bear a symbolic connection to his own personal problems, Grey's Anatomy-style. [The Hollywood Reporter]