Superhero Bits: The Avengers, Man Of Steel, Dark Knight Rises, D23, Thor, Daniel Clowes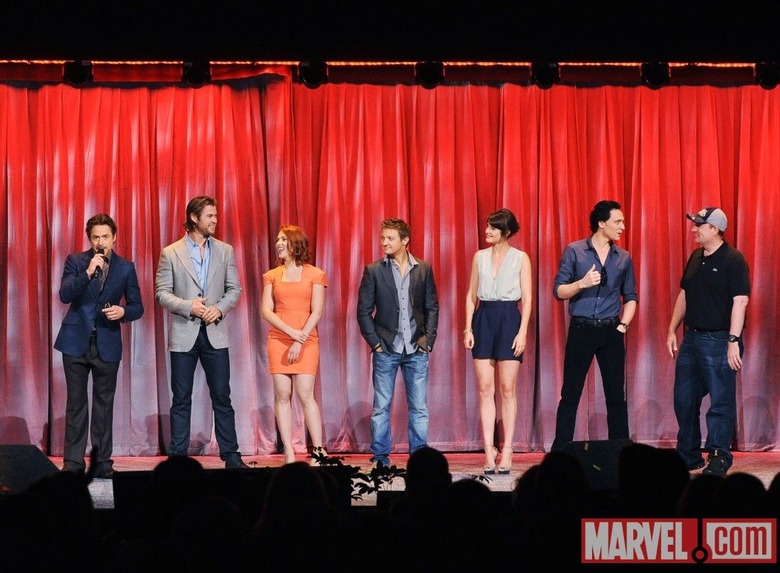 Would you like to watch video interviews with Robert Downey Jr., Chris Hemsworth, Jeremy Renner, Scarlett Johansson, Cobie Smulders and Tom Hiddleston discussing The Avengers? How about see the first look of Michael Shannon as Zod or the new Superman cape in Man of Steel? What are the perks of pre-ordering the Thor Blu-ray? And what did Christopher Nolan do to thank the city of Pittsburgh for allowing them to film The Dark Knight Rises there? Read about all of this, and see a clearly marked page of video spoilers from The Avengers and Dark Knight Rises, in today's Superhero Bits.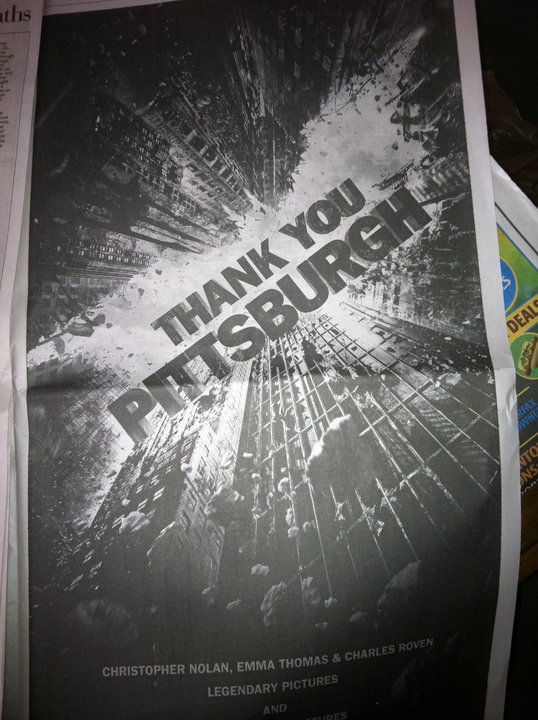 Superhero Hype alerts us to this ad taken out in the Pittsburgh Post-Gazette thanking the city for allowing The Dark Knight Rises to film in their fair city. Shooting is just about over. Later in the column, we've got some new videos from the set.
Iron Man and Thor, Robert Downey Jr. and Chris Hemsworth, spoke to The Hollywood Reporter at the D23 Expo about The Avengers and how the workload compared to their individual films. Watch more Avengers speaking below.
The Hollywood Reporter says Green Lantern is "picking up some steam overseas" and has done almost $80 million internationally already. That's pretty solid.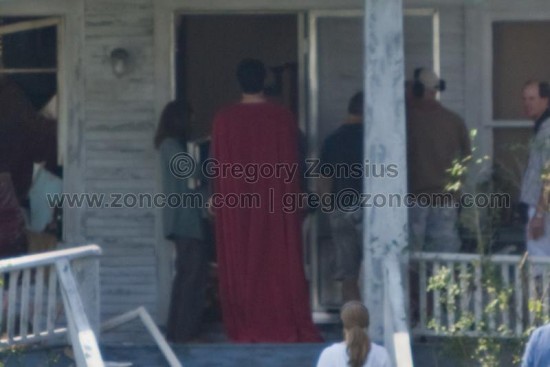 This is the first image of Superman actually on the set of Man of Steel. It kind of stinks but confirms that his cape does not have the "S" on it. The image first popped up on the Man of Steel FB page via CBM.
Reb Brown, who played Captain America in two TV movies, told TMZ he's mad that producers suggested they wanted him to appear in Captain America: The First Avenger, but then never contacted him.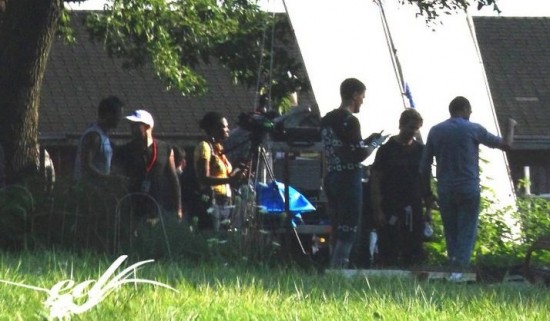 More Man of Steel. Here's the first image of Michael Shannon as Zod. (Well, kind of.) It seems like he's going to have some kind of CG suit from the mocap suit he's wearing. Thanks to the Man of Steel FB via Geek Tyrant.
On Location Vacations has addresses and filming dates for when The Dark Knight Rises comes to Los Angeles.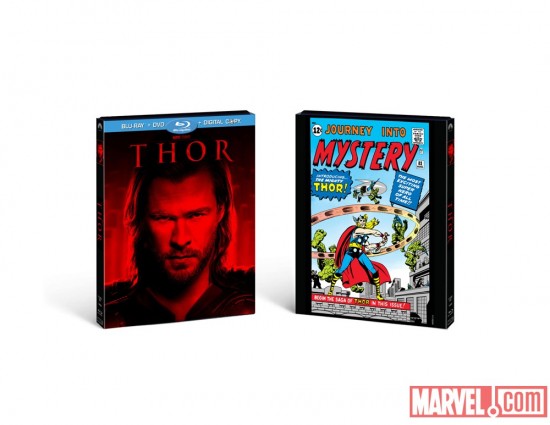 Marvel premiered the Best Buy exclusive art for the upcoming Thor Blu-ray, which includes the first ever image of Thor from Journey Into Mystery #83 in August 1962. And, if you pre-order, you get a month of Marvel Digital comics unlimited for free.XO Jane has a list of the five best comic books for people who don't think they would like reading comic books. Some of these sound really interesting.
SEMI NSFW IMAGE AT TOP OF NEXT PAGE.
Due to the amount of graphics and images included in Superhero Bits, we have to split this post over THREE pages. Click the link above to continue to the second page of Superhero Bits.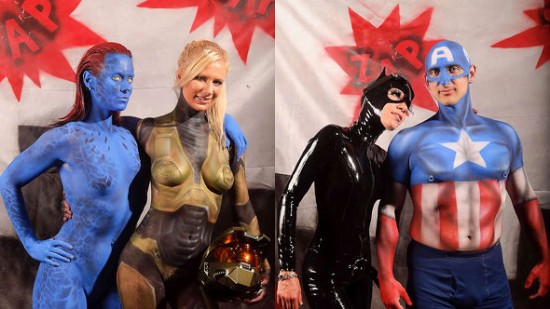 Check out these body painting jobs of Mystique, Master Chief, Captain America and Catwoman from a fetish night at a nightclub in Massachusetts. Find out more over on io9 and thanks to Fashionably Geek for the image.
Air Lock Alpha has a great column by a 60-year-old man asking why he still cares about, obviously ridiculous, superheros.
I promised more Avengers and here they are. Jeremy Renner and Scarlett Johansson speak to The Hollywood Reporter about injuries and vehicles. But wait, there's more, keep reading.
Was there any doubt who the villain in The Avengers is? At D23, those thoughts were put to bed as we saw Loki get under the skin of Tony Stark and Nick Fury. In this interview with Collider, Tom Hiddleston gives more details. Watch it there or read this:
Loki goes toe to toe with every superhero.  I have had a one on one with Robert Downey Jr. A one on one with Chris Hemsworth.  A one on one with Scarlett.  A one on one with Chris Evans, Jeremy Renner and Sam Jackson.  And it's so exciting to see how the different chemistry is.  Not just between the actors.  So my one on one with Robert becomes a battle of wit's and words.  My one on one with Chris Hemsworth ends up in both of us knocking ten bells again because that's how we communicate.  It's been the most exciting thing I've ever done.  It's giant and will be amazing.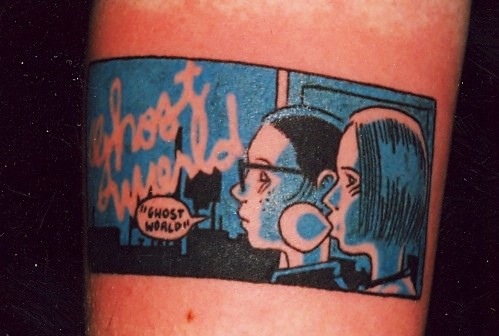 Do you have Daniel Clowes tattoos like the Ghost World one above? Then you should head to this website (via BoingBoing) to be part of a new book.
Collider was also at D23 talking to The Avengers and, at that link, you can watch Cobie Smulders – S.H.I.E.L.D. Agent Maria Hill – discuss the film. The embed wasn't working, sorry.
THERE ARE POSSIBLE SPOILERS FOR THE DARK KNIGHT RISES AND THE AVENGERS ON THE NEXT PAGE.
Due to the amount of graphics and images included in Superhero Bits, we have to split this post over THREE pages. Click the link above to continue to the third page of Superhero Bits.
Comic Book Movie posted a bunch of other videos from The Avengers of Thor and Captain America fighting on set, the highlight being this above video of Thor smashing a car with Mjolnir. Pretty awesome stunt.
Here's another Avengers video from CBM. What the heck are they looking at, an alien spaceship?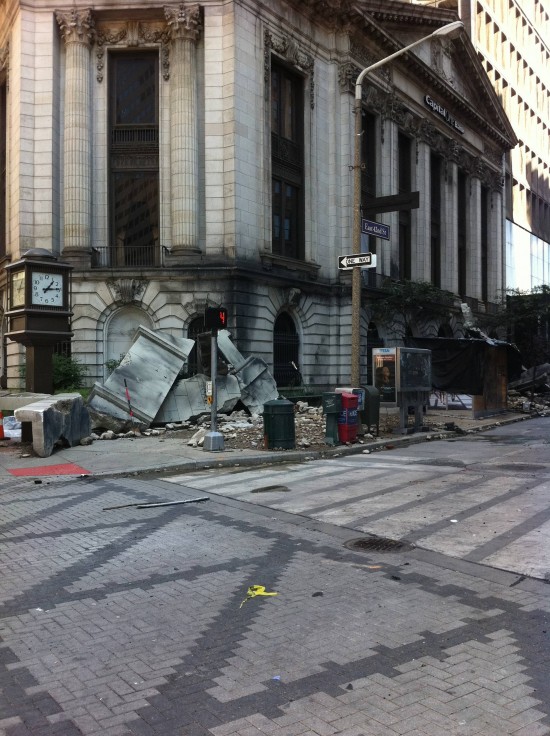 This is an image of the results of some of the destruction on the Cleveland for New York set of The Avengers. Thanks to Reddit.
Shooting a scene in Pgh – Dark Knight Rises from victorbar on Vimeo.Comic Book Movie has found this video of Joseph Gordon Levitt in The Dark Knight Rises apparently writing something on a wall. Kind of mysterious. What do you think he's doing? Special appearance by Daniel Sunyata.Anne Hathaway – not a stuntwoman – cruises on the Batpod on the set of The Dark Knight Rises. Not particularly spoilery but, it's best to keep it safe. Thanks to Pittsburgh Movies via CBM.