TV Bits: 'South Park' Documentary Details, Boardwalk Empire' Season 2 And 'Person Of Interest' Posters, 'American Horror Story' Teaser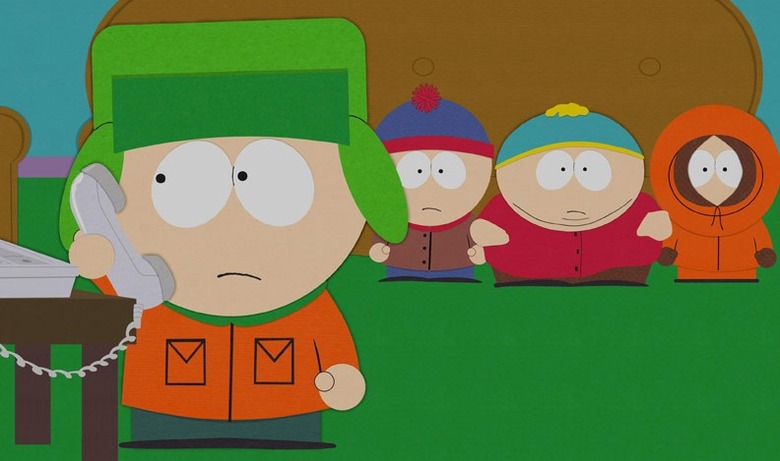 Last week, we reported on an as-yet-untitled documentary about South Park that would be airing on Comedy Central October 2, days ahead of the show's October 5 return. We now have a bit more detail on what, exactly, the special will be about. According to Playbill (via Collider), the documentary will be:
an all-access pass to the behind-the-scenes world of creators Trey Parker and Matt Stone at South Park Studios in Los Angeles through this special documentary, providing an exclusive, insiders look into the making of a 'South Park' episode.
The documentary is apparently part of a year-long celebration of the series to mark its 15th anniversary. Other components of the celebration include the "South Park Fan Experience" at this year's San Diego Comic-Con, a traveling exhibit curated by artist Ron English, and limited-edition South Park-branded merchandise.
After the jump, lots of TV marketing: posters for Boardwalk Empire and Person of Interest, plus a poster and an intriguingly creepy teaser for American Horror Story.
The theme of the second-season marketing for HBO's Boardwalk Empire seems to be "paranoia." In the teaser released a couple weeks back, Nucky Thompson (Steve Buscemi) took a stroll down the boardwalk only to encounter a stream of unfriendly faces. Here, a very suspicious Nucky goes for a walk with Margaret (Kelly Macdonald) on his arm as people throw menacing glances their way — though a few folks are glaring in other directions as well. In case you're still not picking up on the theme, it's tagged with the slogan "Know who's behind you." The new season hits September 25. [Vulture]
Also selling paranoia as an enjoyable plot point is J.J. Abrams' Person of Interest, which has released a poster with the tagline "Ever think you're being watched?" Starring Jim Caviezel and the excellent Michael Emerson, the series revolves around an ex-CIA operative (Caviezel) and an eccentric billionaire (Emerson) who work together to stop crimes before they happen — yes, kind of like in Minority Report. Devindra caught the pilot at this year's Comic-Con and gleefully wrote that "the show more than lives up to our lofty expectations," so this'll be one to keep an eye on when it premieres on CBS September 22. [Entertainment Weekly]
In addition to a striking new poster, we've also got a teaser for American Horror Story, a new drama by Glee creators Ryan Murphy and Brad Falchuck. Starring Connie Britton, Dylan McDermott, Jessica Lange, Denis O'Hare, and Taissa Farmiga (sister of Vera), American Horror Story revolves around a family who move into a haunted house. Murphy and Falchuck have also worked together on Nip/Tuck; if you've ever seen either of their previous collaborations, it probably won't come as a huge surprise that American Horror Story has been described in early reviews as "over-the-top" and "campy."
I absolutely love the first poster, which is eye-catching and very eerie. The first teaser is effectively moody as well. Say what you will about Glee or Nip/Tuck, but there's no denying that these guys know how to create unique, buzzworthy projects. I don't know whether this show will wind up being amazing or awful, but either way I"m guessing it'll be something worth talking about. The series premieres October 5 on FX. [TV Line]