Pixar Announces Dinosaur Movie For Holiday 2013 [D23 Expo]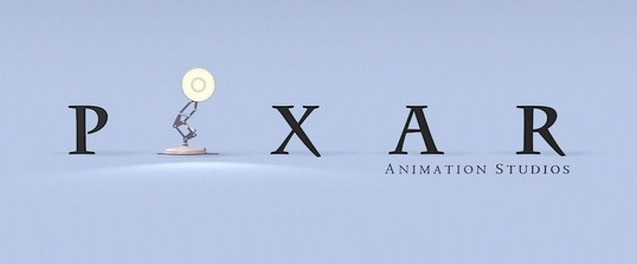 Today at the Walt Disney Studios presentation at the D23 Expo, Disney announced two new movies from Pixar Animation Studios. Both films, yet to be officially titled, will be released in the slots following the announced Monsters Inc prequel Monsters University, which hits theaters on June 21st 2013. Learn more about the first of the projects, which involves dinosaurs, after the jump.
Pixar's Holiday 2013 movie is about dinosaurs. In the presentation, they revealed a joke working title (complete with logo): "The Untitled Pixar Movie About Dinosaurs". Here is the official plot synopsis from Disney:
What if that life-changing asteroid missed Earth? Director Bob Peterson's hilarious tale depicts a world where dinosaurs never went extinct.
And here is a bit of information on the filmmakers behind the movie: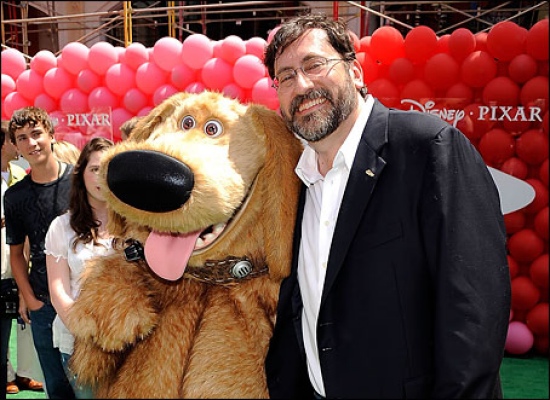 Bob Peterson started at Pixar as an additional animator and layout artist on Toy Story, and worked on the story team for A Bug's Life and Toy Story 2. He was a story supervisor on Monsters Inc, and a writer on Finding Nemo and Up. He is better known to the public at large as the voice of Dug the dog from Up, Mr. Ray from Finding Nemo, Roz from Monsters Inc and Geri from the short film Geri's Game. He made his directorial debut on Up alongside Pete Doctor.
The film is co-directed by longtime Pixar storyboard artist and animator Peter Sohn, who made his directorial debut with the Pixar short film Partly Cloudy. The movie is produced by John Walker, producer of The Incredibles.
Peterson has been fascinated with dinosaurs all of his life. He first discovered them when his dad took him to the New York World Fair as a child. Part of the exposition involved animatronic dinosaurs which were created by Walt Disney himself. And this fortuitous experience has lead Bob to direct a feature film about dinosaurs for the company Walt created.  By the way, that animatronic Dinosaur exhibit is now housed in Disneyland as part of the train ride — one of the best kept secrets in the park as many adults don't think the train ride will provide anything beyond transportation around the park.
They also revealed a piece of concept art that was created for the movie showing a silhouetted brachiosaurus with a small kid on his head, standing in front of a sunset. Disney has not released this image online, but we do have some images from the past.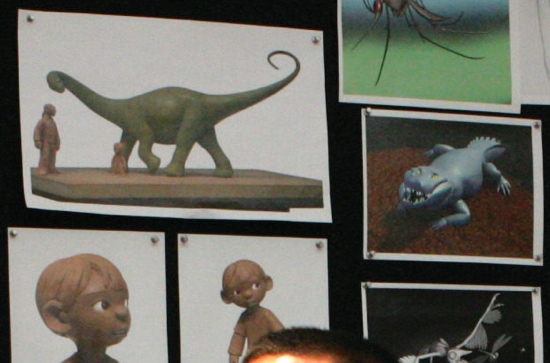 You might recall that in August 2009, Pixar fans spotted some concept artwork featuring a boy and his dinosaur, on sculptor Greg Dykstra's wall in behind the scenes b-roll footage for Pete Docter's Up. Someone also noticed some interesting postings made by Pixar animator and paleontology buff Austin Madison on his personal blog recounting a trip taken by a group of Pixar dino enthusiasts, including Dykstra, to the badlands of South Dakota. Anyone who follows Pixar's development process probably knows that the animation studio's artists usually take research field trips while developing new films. For Ratatouille, they took a trip to Paris to study the city and eat in some of the fine restaurants. For Up, they took a trip to South America to study the the strange wilderness of the region.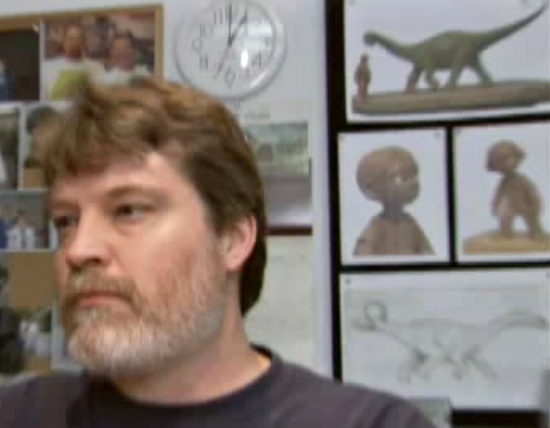 Later, PixarTalk posteda photo showing Up production designer Ricky Nierva standing in front of even more concept art from the project, showing the boy, a brontosaurus, a prehistoric alligator, a pterodactyl, and a mosquito. Check out the full photo below.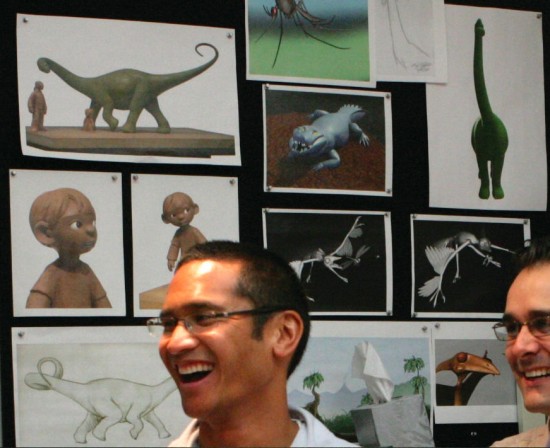 No screenwriter was officially announced for the project. The movie will hit theaters on November 27th, 2013.