'Ghost Rider: Spirit Of Vengeance' Trailer And Poster: Spit Bullets, Piss Fire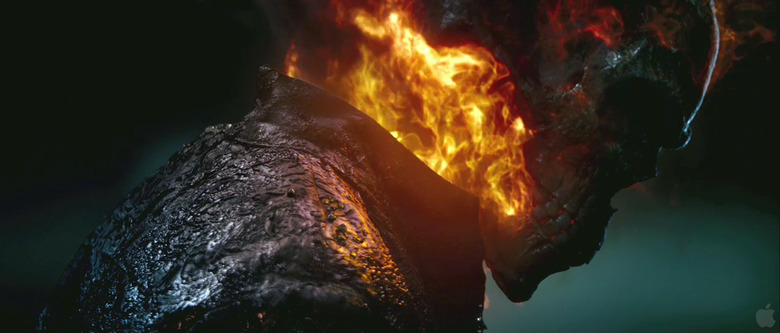 The Comic Con footage from Mark Neveldine and Brian Taylor's Ghost Rider: The Spirit of Vengeance was the sort of stuff that makes a guy want to type in all caps enthusiasm. Who thought a sequel to the lousy 2007 Nic Cage Marvel Comics adaptation would ever look like so much fun? What prompted the enthusiastic Comic Con response? Think crazy God of War-style chain violence, vomiting flaming bullets, and pissing fire. And that stuff is all in the just-released trailer. So check it out below and then get excited and all-caps shouty in the comments.
This trailer starts off a little touchy-feely, but then gets right to the action. I don't think I need to say more than that. Head to Apple for the HD version.
Nicolas Cage returns as Johnny Blaze in Columbia Pictures' and Hyde Park Entertainment's Ghost Rider: Spirit of Vengeance. In the successor to the worldwide hit Ghost Rider, Johnny – still struggling with his curse as the devil's bounty hunter – is hiding out in a remote part of Eastern Europe when he is recruited by a secret sect of the church to save a young boy (Fergus Riordan) from the devil (Ciaran Hinds). At first, Johnny is reluctant to embrace the power of the Ghost Rider, but it is the only way to protect the boy – and possibly rid himself of his curse forever. Directed by Mark Neveldine and Brian Taylor. Screenplay by Scott M. Gimple & Seth Hoffman and David S. Goyer. Story by David S. Goyer. Based on the Marvel Comic.
Ghost Rider: Spirit of Vengeance also stars Ciaran Hinds, Violante Placido, and Johnny Whitworth. It opens on February 17th, 2012.
Here's the poster, via SuperHeroHype. Click to embiggen.