'Best Worst Movie' Filmmakers Need Your Homemade Haunted Houses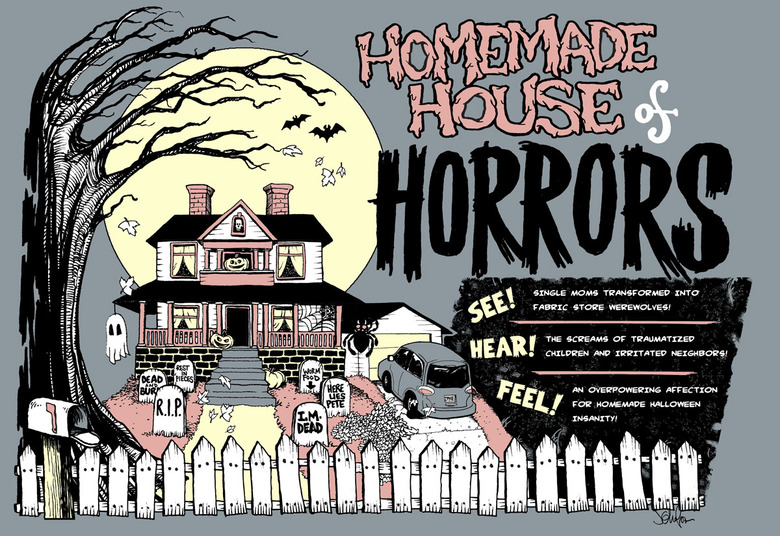 Most communities have a creepy house that scares the neighborhood kids. What those communities usually don't have is a normal house which, on Halloween, is transformed into an equally exciting haunted house. Homemade haunted houses are true labors of love and the filmmakers behind Best Worst Movie are looking for the biggest and best to feature in an Untitled Homemade Haunted House Feature Documentary. The film is being produced by NBC Universal and will feature adults who go to incredible lengths to make their own haunted houses. If you know someone, or happen to be someone, who fits that bill, they want to hear from you. The info is after the break.
All the information on how to apply to be a part of this film is at www.homemadehaunt.com.
Here's the official press release.
Magic Stone Productions and Brainstorm Media announced today that they have signed a deal to produce an Untitled Haunted House feature documentary for an NBCUniversal cable network. The production is currently accepting submissions for documentary cast here — http://www.homemadehaunt.com.
October 31 has been the target for mischief, monsters and – above all – FUN. This dedication to Halloween mayhem isn't just carried out by costumed children and prank-crazed teens. The feature documentary will provide a fun and intimate look into the lives of devoted adults who go to fantastic and frightening lengths to create the ultimate homemade haunted house.
Magic Stone Productions is searching for passionate Halloween die-hards who live to scare through creating amateur haunts and would like to share their creations with the world. Casting and submission information can be found by visiting http://www.homemadehaunt.com.
The Untitled Haunted House feature documentary is being producedby Meyer Shwarzstein of Brainstorm Media alongside Michael Stephenson and Lindsay Stephenson under their Magic Stone Productions banner. Long-time Magic Stone collaborators, Andrew Matthews, Katie Graham and Brad Klopman are also tapped for integral roles in the production. Screenwriter and Alamo Drafthouse film programmer Zack Carlson recently joined the Magic Stone team as a writer and associate producer. Michael Stephenson will direct.
Best Worst Movie is an awesome movie and I can't wait to see what the filmmakers find for this one. What about you?