Superhero Bits: The Avengers, Iron Man 3, DC Comics, Man Of Steel, Anne Hathaway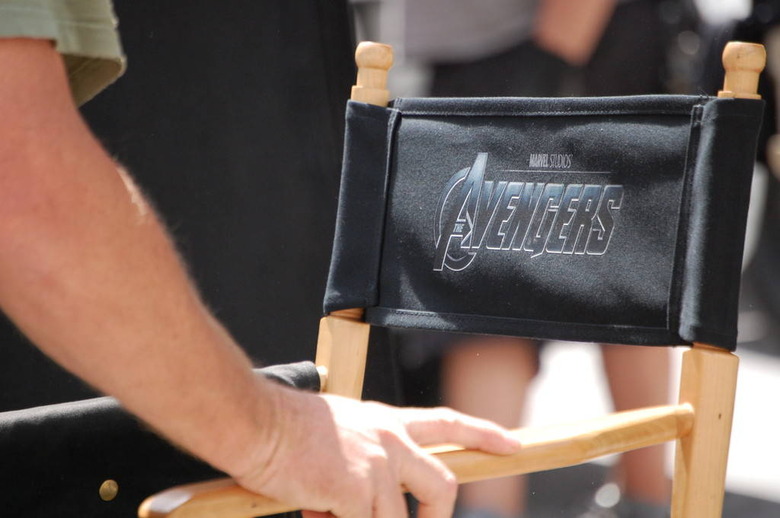 Which upcoming Batman property is going to be in 3D? What did Anne Hathaway have to say to the paparazzi on the set of The Dark Knight Rises? Want to see a commercial for the new DC Comics relaunch? How about find out the up-to-the-minute latest on Iron Man 3? Will Emma Stone kiss Andrew Garfield upside down in The Amazing Spider-Man? Read about that and see a full page of awesome images and videos from The Avengers (Captain America! Explosions! Military! Mystery Guns!) and Man of Steel in today's better-late-than-never Superhero Bits.
The Hero Complex premiered the 30 second spot for DC Comics' relaunch campaign, The New 52, that will play at CineMedia's First Look pre-movie promotion. There's a longer, 2 minute version above.
Comic Book Movie found some quotes from the head of Robert Downey Jr.'s production company, David Gambino, which give some significant updates on Iron Man 3. He talks villain/villains, Kevin Feige and Jon Favreau's involvement as well as this update on the scheduling:
We're still in the early phases. Shane [Black] & Drew Pearce (second screenwriter) are working through the story outline & hopefully, at some point in August, Shane is going to start hammering keys & writing the script, but he has such a unique viewpoint on Tony Stark & I think his corky sensibility is going to be great for the series. It's going to feel, like a reinvention of what it can be as opposed to continuing the saga. What makes Shane a good writer is that he's such a very complex human being. He's got his own demons in a lot of ways.
MTV Splash Page has done a post running down all of Batman's aerial vehicles all the way up to the new one in The Dark Knight Rises.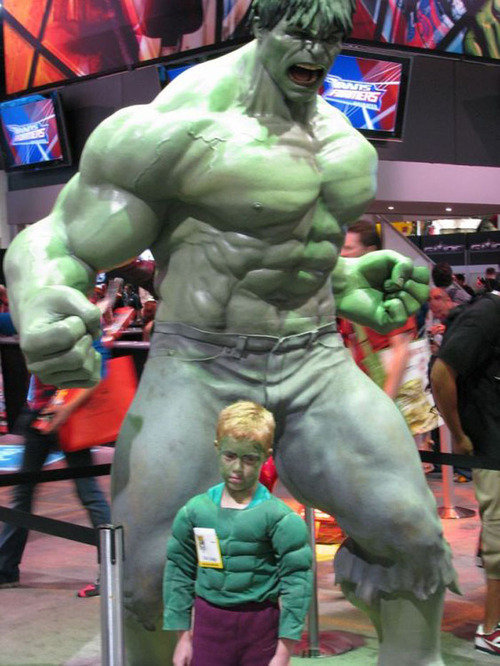 Just when you thought Comic Con cosplay pictures were done..."Mini Hulk is Sad" thanks to I Hate My Parents (via Fashionably Geek).
Not only does Batman: Arkham City have all the awesome Batman outfits and villains in it, but now it's going to be playable in 3D. Thanks to Superhero Hype.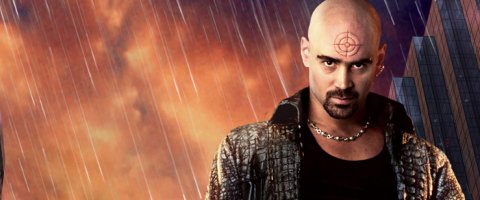 Cinemablend argues that, with Colin Farrell set to star in Fright Night, his best role is actually as Bullseye in Daredevil.Anne Hathaway spoke to Conan about losing weight for The Dark Knight Rises and more. Thanks to Comic Book Movie.
Conveniently, Anne Hathaway also wanted to be Catwoman as a young girl according to this quote from MSNBC (via Just Jared):
A lot of questions that I used to get asked were, 'So, every girl when she grows up wants to be a princess, did you want to be a princess when you grew you?' And I so wish I'd said what I felt back then, because the truth was, 'No, I wanted to be Catwoman!' And now I am. That dream came true, for sure.
That's the full interview above but, if you don't want to watch ten minutes of Anne Hathaway on Conan, here's a snippet of her rapping about the paparazzi on the set of The Dark Knight Rises from Mashable.
Some people have complained about the Superman outfit in Man of Steel but Movies.com lets everyone know that it's way more accurate than they are giving it credit for.
Check out the trailer for the new X-Men video game, X-Men Destiny via Superhero Hype.
Due to the amount of graphics and images included in Superhero Bits, we have to split this post over THREE pages. Click the link above to continue to the second page of Superhero Bits.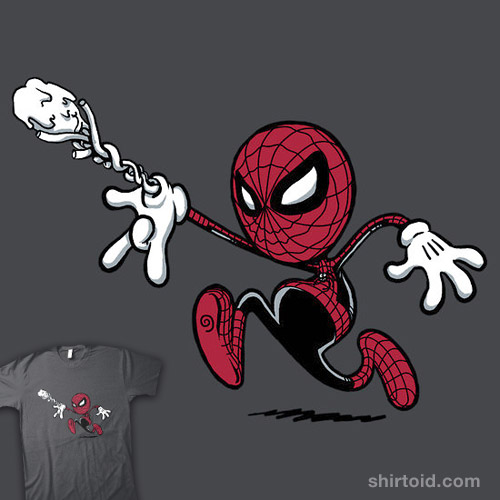 Here's another cool superhero shirt from Shirtoid. Spider-Man as an old cartoon.
Director Philip William McKinley, who took over for Julie Taymor on Spider-Man: Turn Off the Dark, talked to Deadline about the show and said that it's actually doing quite well:
We are selling out every night, consistently drawing $1.7 million each week and finishing behind Wicked and The Lion King. Right now, it's all about maintenance and being incredibly conscientious. We've got the New York Department of Labor in the building for every show still, but we've taken safety to heart.
According to this tweet, screenwriter John August apparently helped out on the Iron Man script.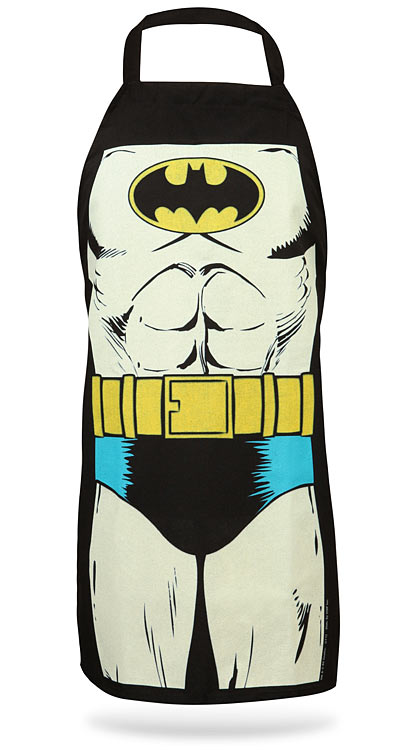 Who wouldn't want to cook in this Batman apron from ThinkGeek (via That's Nerdalicious)?
Emma Stone spoke to the Chicago Sun Times (via Latino Review) about her experience on The Amazing Spider-Man, saying she was more "grounded" and that there won't be an upside down kiss:
Why would we do an upside-down kiss? I'm not Mary Jane. I'm Gwen Stacy in the Spider-Man film. New girl. New kiss. I wanted to do different kisses to make our mark.
Starbuck herself, Katee Sackhoff, talks about voicing Black Cat in Spider-Man: Edge of Time. Thanks to Superhero Hype.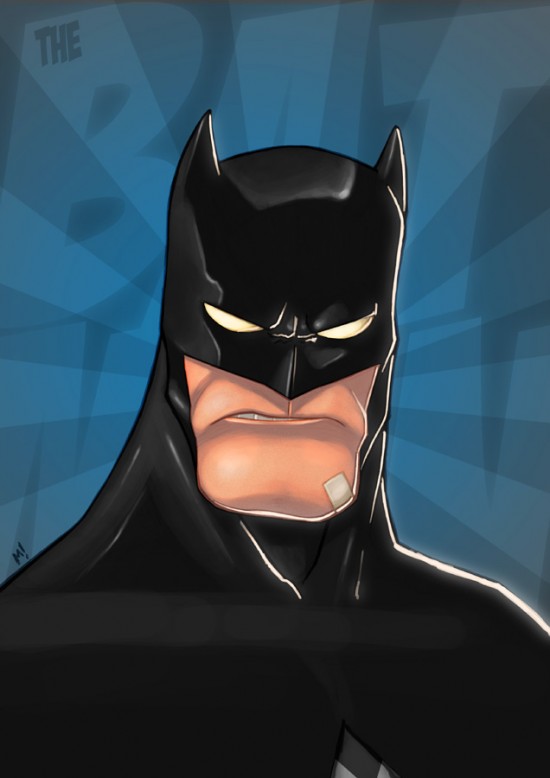 Geek Tyrant (via Deviant Art) found some beautiful work by Mike Henry. There's Batman, of course, but at those links you can see all of Batman's villains – Joker, Bane, Penguin, Catwoman, Scarecrow, Two Face, Riddler and many more – in the same style.
THE NEXT PAGE IS FULL OF MINOR SPOILERS FOR THE AVENGERS AND MAN OF STEEL.
Due to the amount of graphics and images included in Superhero Bits, we have to split this post over THREE pages. Click the link above to continue to the third page of Superhero Bits.
[No photo]
There have been a TON of set photos from The Avengers in the last day or two, including a bunch of a huge explosion on the Cleveland set. The above image comes from Splash Page and if you head to Ain't It Cool News there are videos of it too.
But we can't let you go without some snippet of video of the fireworks. /Film reader Ben Y alerted us to this fantastic view of the Avengers explosion.
[No photo]
A bunch of photos have leaked online of Chris Evans in his new Captain America suit on the set of The Avengers. You can check more of them out at SpoilerTV at that link or this link.
Movieline has a link to another angle of the same scene in The Avengers and you can see director Joss Whedon.
[No photo]
Comic Book Movie has another angle of the Captain America images including this one above of him holding some kind of alien weapon. Obviously, a pretty big spoiler for who the villains in The Avengers are.
On the next day, the military came to help The Avengers on the set. Thanks to Superhero Hype for this video.
[No photo]
Jon Favreau was on set of The Avengers this week and even got his own director's chair as shown in several images from Cleveland.com (via CBM).
And Cleveland.com (via CBM) caught this video of Captain America fighting in an alley.
[No photo]
io9 came across these images from the set of Man of Steel and the report is that a young Clark gets taken to this doctor's office and does something that causes mass destruction. Will we see Superboy? Head there for more.
That same article pointed out the above video over on Comic Book Resources of Amy Adams as Lois Lane asking for directions in Man of Steel.