Casting Bits: Adam Scott In 'A.C.O.D.;' Bill Paxton In 'Vendetta;' Rosemarie DeWitt In 'Neighborhood Watch'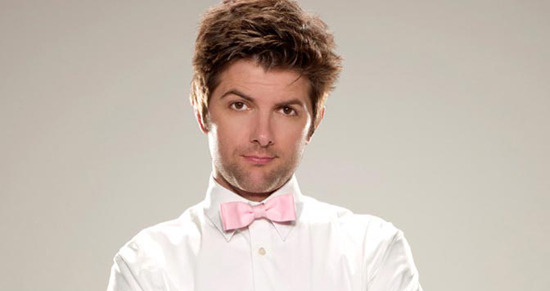 Here's a 'family feud' themed set of casting updates. After the break you'll find info on:
Adam Scott dealing with his feuding parents in A.C.O.D.,
Bill Paxton facing off against Kevin Costner in The Hatfields and the McCoys,
and Rosemarie DeWitt sparring with husband Ben Stiller before a bigger threat — aliens — comes to town in Neighborhood Watch.
Adam Scott, a rising fan favorite thanks to his work on, among other things, Party Down and Parks and Recreation, will star in the comedy A.C.O.D., to be directed by first-timer Stuart Zicherman from a script the director co-wrote with Ben Karlin.
The title stands for 'adult children of divorce,' and the film follows "a thirty-ish man who was forced at an early age to be the adult of his family when his parents split bitterly. Fed up dealing with his parents' long running feud, he must get his folks together once more time and keep from blowing a gasket after his younger brother unexpectedly decides to get married." [Deadline]
Speaking of feuds, the story of the long fued between families the Hatfields and the McCoys is the stuff of American legend. Actually, 'legend' may be overstating things as I think that while a great many people might recognize that 'the Hatfields and the McCoys' indicates a feud, you might be hard-pressed to find too many people who know the details of the real story.
That could change once the History Channel airs a planned miniseries called The Hatfields and the McCoys. Kevin Reynolds (The Count of Monte Cristo; Robin Hood: Prince of Thieves and credited with Waterworld) is set to direct the project with Kevin Costner playing William 'Devil Anse' Hatfield, and new addition Bill Paxton playing Randall 'Ole' Ran'll' McCoy.
(And, to cover the actual story in brief, the two men were part of families settled on the West Virginia and Kentucky sides of the Tug Valley. Bitterness between the families was rooted in the killing of a McCoy who fought for the Union, but sprawled out over years into other encounters and infractions.) [Variety]
Finally, Rosemarie DeWitt of The United States of Tara is in talks to play Ben Stiller's wife, "who forces the family to move to the 'burbs," in Neighborhood Watch. That's the rather long in development action sci-fi comedy about a group of suburban dads who uncover a plot to destroy the world. Vince Vaughn is also in the film, and Akiva Schaffer (Lonely Island) is directing from a script recently rewritten by Seth Rogen and Evan Goldberg. [THR]