'Puncture' Trailer – Chris Evans Tackles Facial Hair, Drug Addiction, And Sinister Healthcare Conspiracy In Lawyer Drama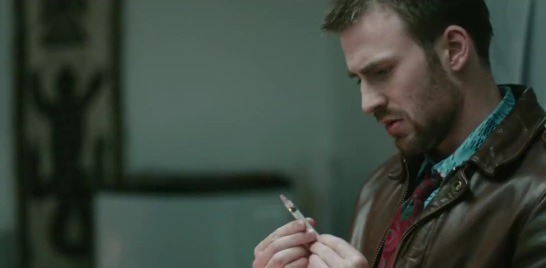 Way back before we knew Chris Evans would become the next Captain America, he took a role in a small indie drama titled Puncture. Directed by Adam and Mark Kassen from a screenplay by Chris Lopta, the film centers around a young, drug-addicted lawyer (Evans) who takes on a case that pits him against a massive healthcare conspiracy. Brett Cullen, Jesse L. Martin, Michael Biehn, Kate Burton, Tess Parker, and Marshall Bell also star, with Vinessa Shaw as Evans' ER nurse client. Watch the trailer after the jump.
[via First Showing]
I'm not really feeling the trailer. It's difficult to tell what Puncture is actually about, other than a guy who's "not your normal lawyer" taking on something that's "not his normal case," involving something that's "not the normal crime" — which sums up pretty much every lawyer movie out there. Cliched lines like "At least I have the courage to lose for what's right!" and "Sometimes the brightest light comes from the darkest places" don't help its case, either. (Er, pun not originally intended, but I'm going to roll with it.)
On the other hand, there are a couple things about the film that suggest it could be better than its trailer suggests. For one thing, it's apparently based on a true story — not a guarantee of quality by any means, but it does add a level of interest to the story. For another, Evans has demonstrated his charisma and talent in a variety of roles in the past, so I'm hoping he'll work his magic again here.
Syonpsis:
Mike Weiss (Chris Evans) is a talented young Houston lawyer and a functioning drug addict. Paul Danziger (co-director Mark Kassen), his longtime friend and partner, is the straight-laced and responsible yin to Mike's yang. Their mom-and-pop personal injury law firm is getting by, but things really get interesting when they decide to take on a case involving Vicky (Vinessa Shaw), a local ER nurse, who is pricked by a contaminated needle on the job. As Weiss and Danziger dig deeper into the case, a health care and pharmaceutical conspiracy teeters on exposure and heavyweight attorneys move in on the defense. Out of their league but invested in their own principles, the mounting pressure of the case pushes the two underdog lawyers and their business to the breaking point.
Discuss: Would you see this movie?