TV Bits: 'Bored To Death' Season 3 And 'Ringer' Trailers; 'Goodfellas' Writer Develops 1960's Vegas Crime Drama; 'Sons Of Anarchy' Creator Quits Twitter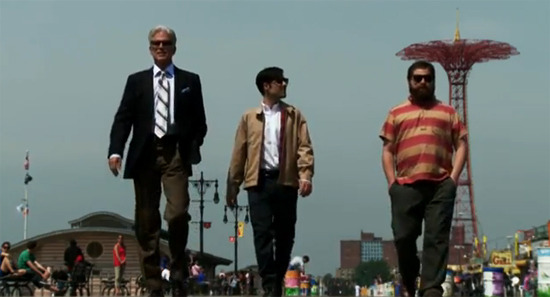 Time to round up some TV news, and what better place to start than with the announcement that Goodfellas writer Nicholas Pileggi and James Mangold will collaborate on Ralph Lamb, a '60s-set Vegas crime drama based on the life of "cowboy-turned-Las Vegas sheriff" Ralph Lamb. CBS is producing; Mangold will direct and Pileggi will write with Greg Walker (Without a Trace).
Ralph Lamb served as sheriff of Clark County from '61 to '79 – a long run! — and actually rode his horse on duty for many of those years, even as he modernized the Vegas sheriff's department and created the city's first SWAT team. He was also a staunch anti-mob figure, which was no small deal given the mafia control over many casinos. It's great, if expensive material for a show. [Deadline]
After the break, trailers for the third season of Bored to Death and Sarah Michelle Gellar's new show Ringer, along with Kurt Sutter's explanation for taking a powder from Twitter.
Here's the Beastie Boys-powered trailer for the third season of Jason Schwartzman's show Bored to Death, which returns on Monday October 10. Looks like the best trip to Coney Island you'll never get to take:
And here's the trailer for Sarah Michelle Gellar's return to a starring role on a recurring TV series, aka the CW show Ringer. The show, which premieres on September 13, finds Gellar playing twin sisters, Bridget and Siobhan. Ioan Gruffudd (King Arthur, Fantastic Four) and Nestor Carbonell (Lost, The Dark Knight) also star. The plot:
After finding herself on the run from the mob, recovering alcoholic Bridget, decides to assume Siobhan's life — only to discover that her sibling's existence isn't as boring and safe as she thought it was.
Finally, after taking some flak for his shot-from-the-hip, sometimes abrasive use of the medium, Sons of Anarchy creator Kurt Sutter has walked away from Twitter. (For Sutter's use of Twitter, see high-profile instances such as the flap over a Charlie Hunnam interview that supposedly had comments about Sons that were either goaded or taken out of context, and Sutter's comments about Mad Men creator Matthew Weiner being the reason that AMC cut other budgets and fired The Walking Dead showrunner Frank Darabont.) By way of explanation, Sutter posted a long final tweet saying,
twitter was a fun ride. all my comments were done in the service of free speech, humor and fan interaction. but ultimately, me having an instantaneous outlet for my darker impulses is not a good thing. i'm a guy who needs filters. lots of them. it seems that my opinions turn into headlines and my black humor turns into tabloid fodder. clearly my 140 characters are causing more harm than good. i'll continue stirring the pot with the weekly YOUTUBE WTF SUTTER updates and my SUTTERINK blog http://sutterink.blogspot.com. I want to thank the SOA fans for their tremendous support. please follow @FXNETWORKS and @SAMCRO_BLOGGER for updates on SONS OF ANARCHY. it's time for me go and ... i accept that.