Casting Bits: Jason Bateman And Melissa McCarthy In 'ID Theft', Natalie Portman In 'Adaline', Nick Offerman And Megan Mullally In 'Gay Dude'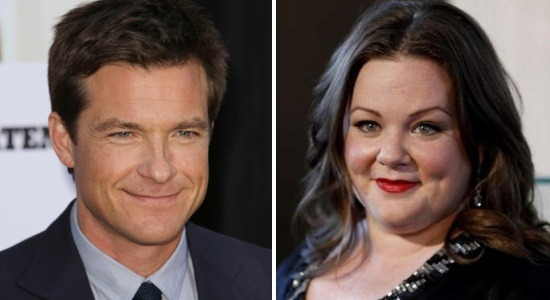 Breakout star Melissa McCarthy has signed up for ID Theft, which will team her with the ubiquitous but charming Jason Bateman. As suggested by the title, the comedy follows a man who becomes the target of identity theft. Bateman will play the victim, and McCarthy the thief. McCarthy's role was originally written for a man, but Bateman (who's also producing) pushed to cast McCarthy in the part after seeing her inspired, scene-stealing performance in Bridesmaids.
Shooting for ID Theft will begin April 2012, at the start of McCarthy's hiatus from Mike & Molly. The script was originally written by Steve Conrad (The Pursuit of Happyness), and is currently in rewrites with Craig Mazin (The Hangover Part II). [Deadline]
After the jump, new gigs for Natalie Portman and Parks & Recreation lovebirds Nick Offerman and Megan Mullally.
Portman will be playing a woman born at the turn of the 20th century who loses the ability to age after she gets involved in a freak accident. When she meets and falls for a man, she must decide whether he's worth giving up her immortality. Angela Lansbury will play Portman's daughter. Andy Tennant was set to direct at one point, but the recent story makes no mention of him, so it's unclear whether he's still involved with the project. [The Wrap]
If you love the pairing of Nick Offerman and real-life spouse Megan Mullally as Ron and Tammy 2 on Parks & Recreation — and if you watch Parks & Recreation, then of course you do — keep an eye out for Gay Dude, an indie written by Parks writer Alan Yang. Offerman and Mullally will be starring alongside Gary Cole, Brian Geraghty, Dakota Johnson, Nicholas Braun, Hunter Cope and Dreama Walker. The comedy revolves around a pair of teenage boys named Michael (Braun) and Matty (Cope) who make a virginity pact a la American Pie. The twist? Matty decides to come out of the closet.
Offerman will play Michael's father, while Cole and Mullally will play Matty's parents. I'm a little disappointed that Offerman and Mullally won't be starring as an onscreen couple, but on the other hand, it's probably for the best. This way, I'm less likely to spend the whole film waiting for Offerman and Mullally to slip back into their Parks roles.
Gay Dude has already started shooting in Vancouver, with first-time feature director Chris Nelson at the helm. [The Playlist]