Reeve Carney Will Play Jeff Buckley For Director Jake Scott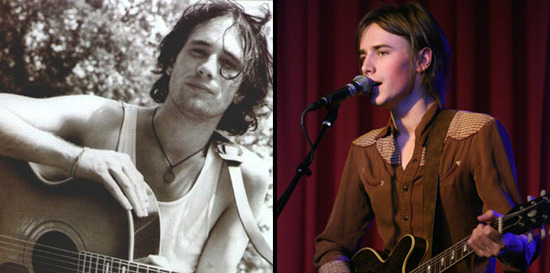 The second Jeff Buckley biopic just found its leading man. (The first is Greetings From Tim Buckley, which has Penn Badgley and Imogen Poots starring, and will chronicle the late singer's early days, before he rose to minor fame.) This second one is currently untitled, and comes from Jake Scott (Welcome to the Rileys). It now has Reeve Carney, who played Peter Parker and Spider-Man in the Broadway show Spider-Man: Turn Off the Dark, set to play Jeff Buckley.
Deadline has the announcement, without too many more details. But it seems like it might be a good announcement. Carney likely has the musical chops to actually play Buckley and really deliver the musical performance. Whether or not he'll be able to sell the whole arc of the story remains to be seen. But it's better than pulling someone directly out of reality-TV land to play a celebrated musical figure that never would have been part of the American Idol landscape in the beginning.
The 'other' film, Greetings From Tim Buckley, features no rights to Buckley's music and is set at a tribute concert for his folk singer father, where the elder and younger Buckleys reconnect.  But Jake Scott's movie has exclusive rights to the singer's work, and is intended to be more of an all-encompassing biopic. Ryan Jaffe scripted based on the book Dream Brother: The Lives and Music of Jeff and Tim Buckley.
Jeff Buckley's mother is an exec producer, and the film even has the rights to Leonard Cohen's song 'Hallelujiah,' a cover of which was one of Buckley's most famous songs. (Let's just not talk about how the song was used in Watchmen, please.)
Jake Scott waxes enthusiastic about Carney, saying he has "the perfect combination of musical prodigy, impish charm, innate intelligence and sensitivity to play Jeff."
Angie summed up the singer's life well when we last covered this project:
The son of troubled folk musician Tim Buckley, Buckley grew up around music. Buckley began working as a guitarist in the '80s, but his career really began gathering steam in the '90s, as he performed in smaller venues mostly around New York City. In 1994, he released his debut album, Grace, to great critical acclaim. It would be the only one he completed before his death. In 1997, while working on his second album, Buckley went for a spontaneous swim and drowned. The incomplete album, Sketches for My Sweetheart the Drunk, was eventually released in 1998.