AMC Renews 'Breaking Bad' For 16-Episode Final Season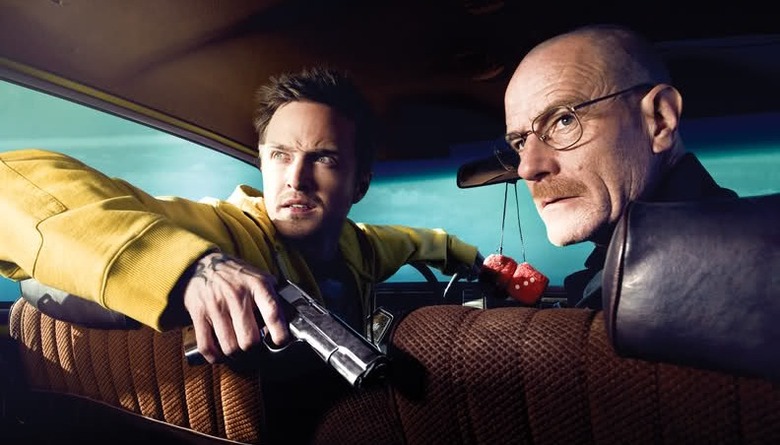 As AMC continues to deal with the fallout from its firing of The Walking Dead showrunner Frank Darabont, it's managed to resolve another one of its notoriously tense negotiations. News comes today that the network has renewed Breaking Bad for another 16-episode season, which will be the series' fifth and last.
The deal comes at the end of a long, unhappy public battle between Breaking Bad creator Vince Gilligan and the network; at one point, Gilligan and his team even began shopping the series to other networks. Read more after the jump.
Gilligan has said in the past that he'd like a definite endpoint for Breaking Bad, so the fact that the series is set to end doesn't come as a huge surprise.
Despite the negative tone of some of the earlier talks, both Gilligan and AMC seem satisfied with the new deal (or at least satisfied enough to fake it for the press release). Here's what Gilligan had to say about the end of his series:
It's a funny irony — I'd hate to know the date of my own last day on earth, but I'm delighted to know what Walter White's will be (episodically speaking). This is a great gift to me and to my wonderful writers. It's knowledge which will allow us to properly build our story to a satisfying conclusion. Now, if we don't manage to pull that off, we've got no one to blame but ourselves. Breaking Bad has been a dream job these past four years. Working with the best cast and crew in television has no doubt spoiled me for future projects. I'm lucky to get to work with them on sixteen more episodes, and I will always be grateful to both AMC and Sony Television, who from the beginning, believed in our show and supported me creatively and professionally. We have been able to take risks with Breaking Bad which would not have been possible on other networks.
The news is sure to be bittersweet for longtime fans. On the one hand, the premise of Breaking Bad makes it a story better served by having a conclusive end date than by being forced to stretch on indefinitely; on the other, I'm sure fans will be sorry to see it go all the same. I'm just relieved to hear that after all the very public turmoil at the network, AMC and Gilligan have managed to reach a compromise that allows the series to maintain its creative integrity while presumably working with the network's budgetary woes.
Discuss: Are you happy to see the series get a fitting end, or just bummed that you'll have to say goodbye to Jesse and Walt?