Hayley Atwell, Alexa Davalos And Rosamund Pike Vie For Female Lead In 'One Shot'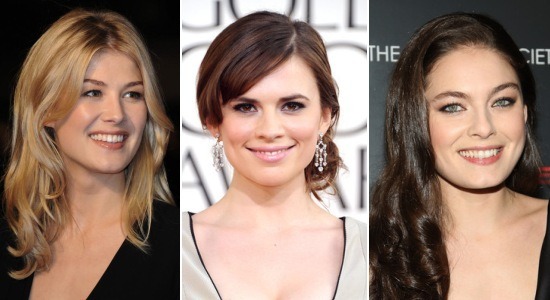 We've known for weeks now that Tom Cruise would be playing Jack Reacher in Christopher McQuarrie's One Shot, adapted from Lee Child's bestselling crime novel. Now comes news on who might be playing opposite Cruise as the female lead. Over the weekend, at least three actresses reportedly met with McQuarrie and the studio to read for the part: Hayley Atwell, Alexa Davalos, and Rosamund Pike. If you're wondering what happened to Brit Marling, who was previously rumored for the role, she's apparently out of the running due to scheduling issues. Read more after the jump.
According to The Hollywood Reporter, the studio wants a "pedigreed yet non-A-list actress" for the role. Atwell, Davalos, and Pike all seem to fit the bill.
Atwell's most recognizable role to date was in this summer's Captain America: The First Avenger, in which she played love interest Peggy Carter. Her previous gigs include roles in Cassandra's Dream, directed by Woody Allen, and The Duchess, co-starring Keira Knightley.
Davalos has appeared in a few films over the past several years, including The Chronicles of Riddick, The Mist, and Defiance, but is probably best known for playing Andromeda in 2010's Clash of the Titans.
Pike is probably the most seasoned of the three actresses, at least in terms of film and television roles. Among her recent movies are Made in Dagenham, Surrogates, and An Education. One of her next big-screen appearances will be in next year's Clash of the Titans 2 (rumored title: Wrath of the Titans), in which she'll replace Davalos as Andromeda.
One Shot is scheduled to begin shooting this fall in Pittsburgh for a February 8, 2013 release.Discuss: Have you read the book? Who do you think would be the best fit for the female lead? Or are you so annoyed with the casting of Cruise as Reacher that you've stopped caring whom they cast?