/Film Has Your Ticket To See '50/50', One Of Peter's Favorite Movies Of 2011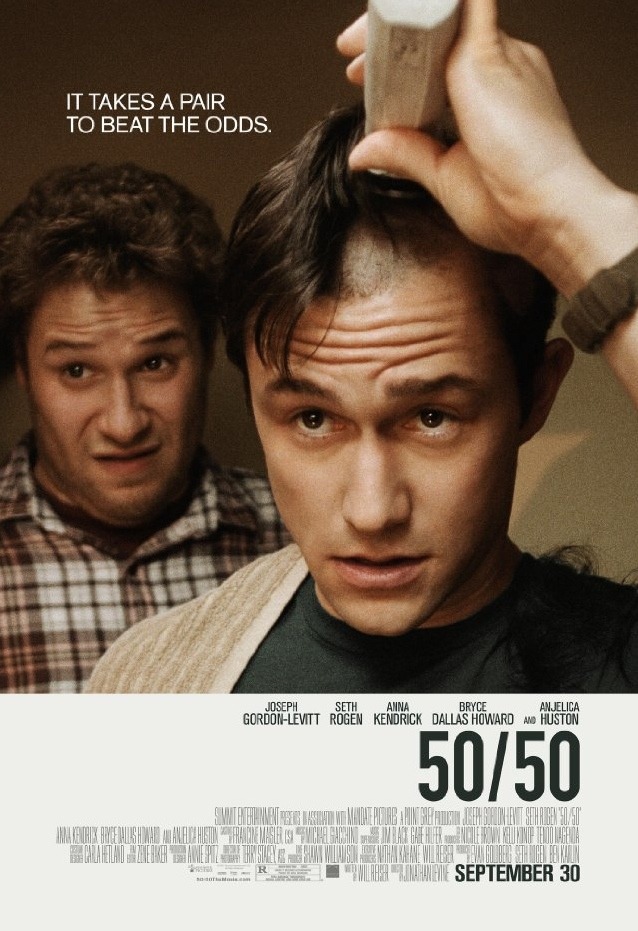 I was a huge fan/supporter of Jonathan Levine's 2008 film The Wackness, which premiered years ago at Sundance and got dumped at the box office by Sony Pictures Classics. Levine has had some tough luck in terms of distributors — his debut feature, the critically acclaimed horror film All The Boys Love Mandy Lane premiered at the 2006 Toronto International Film Festival, yet has still never gotten a US release (both theatrically and even on dvd/blu-ray). But as they say, the third times the charm. I saw this film at an early screening a couple months back and it remains one of my favorite movies of the year. And I'm not alone, Germain also agrees.
50/50 (originally titled I'm With Cancer) is an autobiographical story based on the experiences of Will Reiser, a producer on HBO's Da Ali G Show and VH1's Best Week Ever. Joseph Gordon-Levitt stars as Adam, a 27-year-old who is diagnosed with cancer, and his sometimes funny "struggle to beat the disease." The film, funded with Summit Entertainment's giant pile of Twilight money, co-stars Seth Rogen, Anna Kendrick, Bryce Dallas Howard and Anjelica Huston.
50/50 won't hit theaters until September 30th 2011, but I'm very happy to be able to give you guys/gals a chance to see it early. /Film is giving out 100 tickets to screenings in:
Austin, Boston, Chicago, Houston, Los Angeles, New York, Philadelphia, San Francisco, Seattle, and Washington DC.
Screenings take place on August 30th (with the exception of Austin, which is on August 29th). Get your tickets now while they are still available. And as with any of these advance screenings, arrive a bit earlier than you normally would to ensure a seat.
SYNOPSIS
Inspired by personal experiences, 50/50 is an original story about friendship, love, survival and finding humor in unlikely places.  Joseph Gordon-Levitt and Seth Rogen star as best friends whose lives are changed by a cancer diagnosis in this new comedy directed by Jonathan Levine from a script by Will Reiser.
"We worked with Will on Da Ali G show, and it was shortly after that we learned he was sick."  Rogen recalls.  "As shocking, sad, confusing and generally screwed up as it was; we couldn't ignore that because we were so ill-equipped to deal with the situation, funny things kept happening. Will got better, and when he did, we thought the best way to pull something good out of the situation was to get him to write a screenplay. Ideally we wanted to make a film that would be as funny, sad, and hopefully as honest as the experience we went through. As soon as the script was completed, it quickly became a passion project for all of us.  It helped us come to terms with Will's struggle as well as our own experiences."
50/50 is the story of a guy's transformative and, yes, sometimes funny journey to health – drawing its emotional core from Will Reiser's own experience with cancer and reminding us that friendship and love, no matter what bizarre turns they take, are the greatest healers.