Justin Lin Already Has Final, 12 Minute 'Fast Six' Scene Done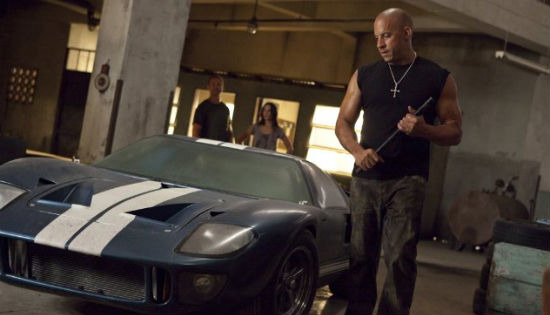 Director Justin Lin is dropping scoops all over the internet as he talks to press promoting the upcoming Blu-ray release of his $600 million beast, Fast Five. We covered a bunch of them earlier, such as his recent meeting with Arnold Schwarzenegger and James Cameron about Terminator 5 and why he turned down Die Hard 5. He also announced that the sixth Fast and the Furious movie, which he's unofficially calling Fast Six, will be his next project. A big hint as to where that movie might go was hidden in the credits for Fast Five and Lin spoke to Box Office Magazine about it and also revealed that, while shooting Fast Five, he pre-vised and edited together a 12 minute sequence that he plans on being the end of Fast Six. It's already done. Read his quotes after the jump.
The following quote comes from an interview Lin did with Box Office Magazine. If you head over there, you can read what Lin had to say about the major reveal in the credits of Fast Five, how long they had it planned and more. We're going to focus on the next film though and here's what he had to say about that:
My whole thing is about respecting the audience and respecting the evolution of these characters—and they've grown and now the family is back together. And in many ways, some of the big pieces of Fast Six have already been discussed: I already have a 12-minute sequence done. I did it just as an exercise. I had it done before we were finished with Fast Five, actually. So I wanted to do that just to have it there and to be honest with you, I didn't know if I was going to do a Fast Six. I didn't know if people were going to embrace Fast Five and we were going to have an opportunity. But I felt like I really wanted to make sure that the last scene, which I had talked to Vin about countless times—I wanted to make sure that was done. So actually I boarded it, I pre-vised it, and I cut it. So it's funny, when we were in Atlanta shooting it, I already had the end sequence to Fast Six done. And that was what I wanted to work towards.
Now I'm talking to Chris [Morgan, the writer of the last three films], we're talking to everybody, and I'm re-engaging, but it's cool because it's not about, "Hey, people want to see another one-what are we going to do?" Now it's like, "wow, people want to see another one-and we have a plan." So it's been a really great. I've just been sitting down with Chris and we're getting together later today, and it's much more fun when you kind of know where you're going to go. That kind of discourse is something I enjoy much more than, "Oh my God—what are we going to do?" So I think in a way, it's a perfect relationship of the audience embracing it and wanting another one-and us being prepared that if that happens, we know where to go.
So, they have a plan, an end game, and that end game was known during production of Fast Five when a sixth film wasn't even a certainty. What do you think it could be?