Dreamworks Drops Eminem Boxing Drama 'Southpaw;' Will Likely Be Shopped To Other Studios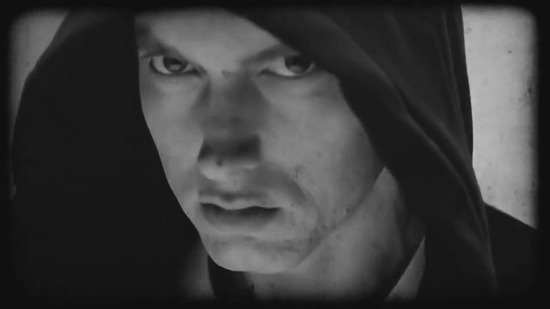 Eminem's planned return to screen acting just took one on the jaw. Southpaw, a story scripted by Kurt Sutter (Sons of Anarchy) that would star the rapper as a lefty boxer whose life and career fall prey to tragedy, was picked up as a pitch by Dreamworks last year. But the studio today cut the project loose. Sutter and attached director Antoine Fuqua (himself a one-time Golden Gloves fighter) are free to take it elsewhere.
Deadline doesn't have a clear reason behind Dreamworks' decision to drop the film, surmising that it could be based on either a conservative attitude after the poor performance of Cowboys & Aliens, or a perceived over-abundance of fight films. Neither of those explanations hold much water; Eminem is a proven star with a large fanbase, and fight films are salable. As to a glut of fight films, really? There's The Fighter, the upcoming Warrior and... well, not much more. Maybe that Fighter sequel will be in shape by the time Southpaw would be ready to hit screens?
But The Fighter took quite some time to come together, too, with a reduced budget and above-the-line talent foregoing most of their salaries in favor of back-end participation in order to get it made. Deadline suggests that a similar approach could be key to getting Southpaw into fighting shape.
Just to refresh your memory, here's how Sutter explained the project last year:
I took meetings with Marshall's producing partners over the past 7 years, looking for something to do together. I know he's very selective and doesn't do a lot. But he shared so much of his personal struggle in this raw and very honest album, one that I connected with on a lot of levels. He is very interested in the boxing genre, and it seemed like an apt metaphor, because his own life has been a brawl. In a way, this is a continuation of the 8 Mile story, but rather than a literal biography, we are doing a metaphorical narrative of the second chapter of his life. He'll play a world champion boxer who really hits a hard bottom, and has to fight to win back his life for his young daughter. At its core, this is a retelling of his struggles over the last five years of his life, using the boxing analogy. I love that the title refers to Marshall being a lefty, which is to boxing what a white rapper is to hip hop; dangerous, unwanted and completely unorthodox. It's a much harder road for a southpaw than a right handed boxer.