TV Bits: 'DMZ' Adaptation Killed, Roseanne Barr Developing New Sitcom, 'True Blood' Renewed For Fifth Season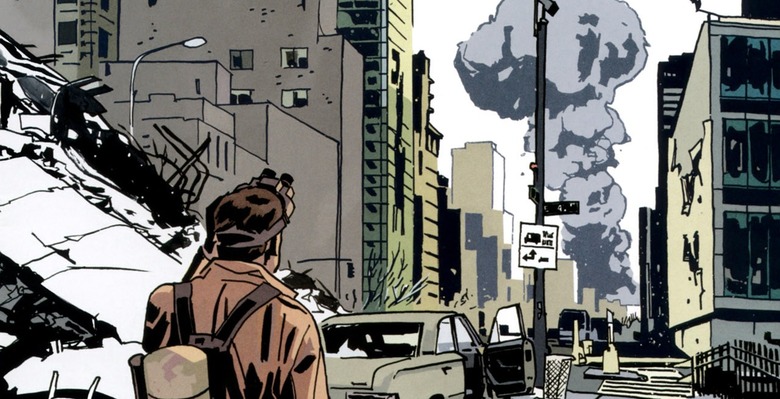 The steady stream of television news continues today with a couple of interesting announcements. After the jump, read about the "near miss" of a television adaptation of Vertigo comic book series DMZ, Rosanne Barr's return to sitcom television, and a fifth-season renewal for True Blood.
We also had a near miss with setting DMZ up as a television show, at a verrrry respectable network, and its a bit crushing. I had hoped the whole new "DC Entertainment" meant they'd be better about this sort of thing... and this deal seemed like a gift from heaven... but apparently not.
While it's possible that Wood will be able to put together another deal for a live-action adaptation at some point in the future, it seems unlikely that we'll be seeing the books brought to life anytime soon.
The comic books take place in a not-too-far-off future in which Manhattan has been turned into a demilitarized zone (DMZ) in the wake of a second American civil war. The conflict takes place between the United States and the so-called Free States, who wish to secede. Wood has said previously that the series would end with Issue #72; last month's issue was #67.  [MTV]
On a more positive note: Roseanne Barr is currently developing a new sitcom at Fox, with her longtime partner Johnny Argent. Like her big '90s hit Roseanne, Downwardly Mobile will star Barr, and center around a blue-collar family struggling with the tough economic climate.
Although Barr has remained in television since her show ended in 1997, Downwardly Mobile will mark her return to the sitcom world (minor guest appearances notwithstanding). Among the projects that the star has been involved with since the end of Roseanne are the talk show titled The Roseanne Show and a documentary series called The Real Roseanne Show. Recently, she's been working on the Lifetime reality series Roseanne's Nuts, about her 40-acre macadamia nut farm in Hawaii.
Given the crappy economy, now seems like a perfect time for Barr to put out another Roseanne-like show. The series is still respected today as one of the most realistic portrayals of the working class ever put to television. If she's able to recapture that magic, Downwardly Mobile should have no trouble striking a chord with its viewers. [Vulture]
In unsurprising but welcome news, HBO has renewed its hit series True Blood for a fifth season to premiere next summer. Although showrunner Alan Ball has said that "there will be an end for me on this show at some point," he'll be sticking around for at least another year — he recently signed a deal to stay on through Season 5.
The upcoming season will introduce still more characters to the spooky, crazy world of Bon Temps, Louisiana, and will "explore how one of the vampires was made." The show is currently in its fourth season, which will conclude next month. [TV Line]