'Riddick' Sequel Now Casting; Character Gets 'Kick-Ass Overhaul;' Story Follows 'Pitch Black'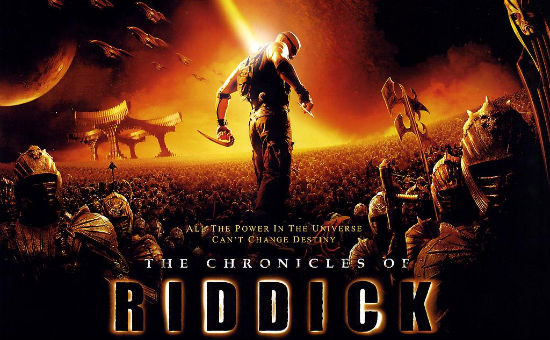 Vin Diesel's prediction was apparently only a few months off. Earlier this year, the Fast Five star said he and writer/director David Twohy could start shooting a new Riddick movie as early as this summer. Summer is almost over and while shooting hasn't begun, it seems that casting has.
According to Moviehole, casting has now begun on the film simply called Riddick, which will be a direct sequel to Pitch Black with only minor references to The Chronicles of Riddick. In the film Riddick's character "seems to have gotten a welcome, kick-ass overhaul....he's more brutal, bad-ass and virile than he was in the previous films." Read a bit more about the characters that are being cast and the possible plot after the jump.
Moviehole first reported the news but since Universal has yet to comment, you have to take this as a bit of a rumor. The site seems to have read Twohy's script, though, and have an intimate knowledge of its contents. If you head over there, you can read a bunch of specific spoilers but, much like Shock Till You Drop (who gave us the heads up) we'll just highlight a few paragraphs:
In a nutshell, the movie sees Riddick back on a barren planet, surrounded by monsters and mercenaries – both species who want him dead and vice versa. Though there's a couple of potential cameos from previous Riddick movie faves, it's mostly fresh blood this time surrounding the big guy. And speaking of fresh, the character seems to have gotten a welcome, kick-ass overhaul....he's more brutal, bad-ass and virile (as some may say) than he was in the previous films.
They also talk about how this film fits into the series:
"Riddick" is a direct sequel to "Pitch Black" – the events tie into that film. In much the same way the upcoming "Dark Knight Rises" will tie up any loose threads and plot points from Batman Begins, Riddick will return to the mystery and monsters at the centre of "Pitch Black." That's a good thing because, let's admit it, the original rocked.. the sequel sucked. Not to say there isn't a link to the last Riddick adventure.
Head to their site for more spoiler details.
As for the characters that are currently being cast, their names are reportedly Boss Johns, Santana, a "sexy female merc" named Dahl and "the smug commander" Krone.
Moviehole sounds pretty convinced and their details seem pretty spot on but until Universal comments, take all this info with a grain of salt. But still – can you believe we might still be seeing a new Riddick movie soon? Did you ever think you'd see the day? And how will this fit into Vin Diesel's busy schedule?