TV Bits: 'Boardwalk Empire', 'Bewitched', 'The Lincoln Lawyer', 'Frankenstein', Leif G.W. Persson, And More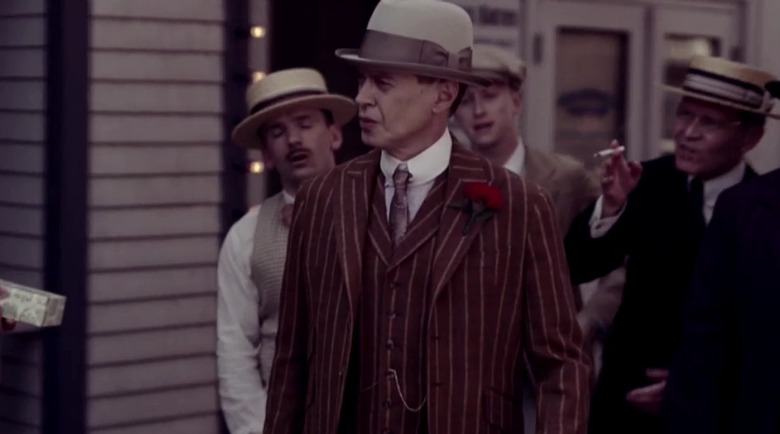 Because it's just before the start of the fall television season and right in the middle of TV pitch season, August tends to be a pretty busy month for TV news. As a result, we've got tons of TV bits for you today. Hit the jump for more on:
The season 2 trailer of Boardwalk Empire
CBS picks up a Bewitched remake
ABC develops a TV adaptation of The Lincoln Lawyer
NBC orders a Frankenstein project
FOX grabs the rights to Leif G.W. Persson's Swedish crime novels
[via Vulture]
Boardwalk Empire will return to HBO Sunday, September 25 at 9 PM.
Moving on now to shows that we may have to look forward to (or dread) in the somewhat-more-distant future: CBS has ordered a remake of Bewitched, by writer Marc Lawrence (Miss Congeniality) and producers Douglas Wick and Lucy Fisher. Wick and Fisher were also behind Nora Ephron's critically panned 2005 "re-imagining" of the property, which starred Nicole Kidman and Will Ferrell. The development of the new series seems to follow the current trend of remaking old shows (see also: Hawaii Five-0 and Charlie's Angels). Hey, if it works for the big screen, why not the small one?
The original, 1960s-era sitcom centered around a witch (Elizabeth Montgomery) married to a mortal man (Dick York, and later Dick Sargent) and trying to to live the life of a typical, non-magical suburban mother.
Among the other comedies that have recently been picked up include a half-hour sitcom at CBS by Pam Brady, about "retirees moving to a college town," and a high school comedy at ABC titled BAMFS, written by Leah Rachel and produced by Jamie Tarses. [The Hollywood Reporter, Deadline]
Another supernatural-themed show that's recently been picked up is a drama based on Frankenstein, which is being developed at NBC. The script for the "modern-day take" will be written by Russel Friend and Garrett Lerner, two of the executive producers from FOX's House. Little is known about the new show at this point, but it seems like there's a chance that some other famous monsters could make appearances as well — the studio behind this Frankenstein project, Universal Studios, also owns the intellectual property rights to Dracula, the Wolfman and the Mummy.
Frankenstein's monster first entered popular culture in 1818, as a character in Mary Shelley's classic horror novel. The character's story has since been retold in countless adaptations since then, with some adaptations being more faithful to the source material than others. Though the character isn't quite as big as vampires or zombies just yet, we can expect to see much more of him in the coming years. In addition to this new series, there are also several different big-screen projects revolving around Frankenstein's monster in the works at this time. [Variety]
If you liked this year's The Lincoln Lawyer, you'll probably love next year's The Lincoln Lawyer as well. A television version of Michael Connelly's original novel is currently in development over at ABC, with Connelly and John Romano (who wrote the screenplay for the big-screen adaptation) set to pen the pilot script. Connelly and Romano will also be executive producing, along with Joel Gotler, Gary Lucchesi and Tom Rosenberg.
Connelly's book (and the film and television versions of it) follow a criminal defense lawyer named Mickey Haller who conducts his business out of the back of his Lincoln Town Car while one of his former clients drives him around. The Lincoln Lawyer is only the first of several books to feature the character; his most recent literary appearance was in Connelly's The Fifth Witness, released earlier this year. Matthew McConaughey played the a character in the movie. [Variety]
Scandinavian crime tales continue to enjoy their moment in the sun with news of a television adaptation of Leif G.W. Persson's popular novels about misanthropic cop Evert Backstrom. Stephen Gaghan (Syriana) is developing the project, which is being planned as an hourlong drama series for FOX. The character of Backstrom has featured in two of Persson's novels to date — Linda and He Who Kills the Dragon — and is planned to appear in at least one more.
I haven't read any of these books myself, but The Hollywood Reporter describes Backstrom as "a cynical, racist, sexist and homophobic cop with a drinking problem who is disliked by many of his colleagues." Fun! Sounds a lot like the prickly protagonist of another FOX sorta-procedural that'll be coming to a close soon, actually. [Deadline]
Discuss: Are you looking forward to any of these projects?