Restricted Footage From '30 Minutes Or Less' Features Dirty Sex Talk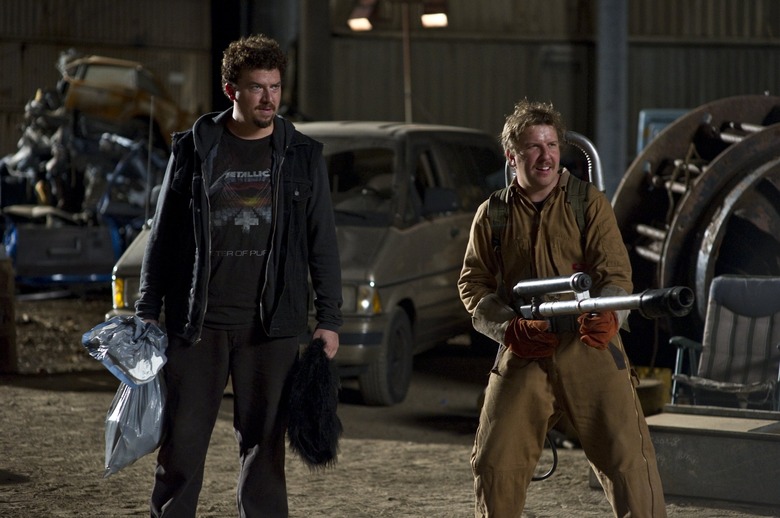 The summer of 2011 is coming to a close and the final big studio comedy coming our way is 30 Minutes or Less, director Ruben Fleischer's post Zombieland/pre-Gangster Squad comedy starring Jesse Eisenberg, Aziz Ansari, Danny McBride and Nick Swardson. In the film, which is loosely based on a true story, a pizza delivery boy (Eisenberg) has a bomb strapped to him by two thugs (McBride and Swardson) and is forced to rob a bank. A simple premise that, when you watch this new, restricted footage reel, is obviously prime for a ton of jokes, most of which have to do with sexual gratification.
Watch the video after the jump. The footage is tame but the language is decidedly NSFW, so get those headphones out.
Here's the footage from the film which opens this Friday.
As much as I love all of the people in this movie as well as Fleischer's first movie, the reason I'm going to see 30 Minutes or Less is Ansari. The guy is pure comedy gold and to see him interact with a great straight man like Eisenberg should be highly entertaining.
A bunch of people have seen the film and while I don't rank among them just yet, I haven't heard one bad thing about it. The worst thing I heard is that it was funny but kind of forgettable and, with today's movies, that's really all you can expect from a comedy. Even some of my favorite comedies of the last few years have that aspect about them. The laughs sort of blend everything together and while you don't necessarily walk out feeling transcendent about the movie, you know you had a good time. If that's the worst we can expect from 30 Minutes or Less, it's the obvious choice this weekend.
What do you think of this footage? Do you think it gives away too much? Who are you most excited for in this movie?