'The Avengers,' 'Brave,' 'Oz The Great And Powerful' And 'Monsters University' Among Confirmed D23 Attendees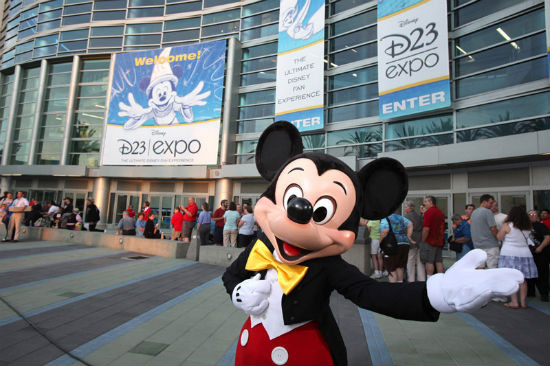 In recent years, Comic-Con has been criticized for becoming too Hollywood as all the major studios would come down to San Diego and woo fans with their upcoming projects. This year, Disney — which owns both Marvel and Pixar — didn't have a big presence there. Most surmised that was because Disney has its own version of Comic-Con, The D23 Expo, a few weeks later. That was confirmed a few weeks ago and now we have details on specifically which movies Disney will have on hand at D23, which takes place in Anaheim, CA from August 19-21. And if you thought Comic-Con was being invaded by movies, you ain't seen nothing yet.
Confirmed films to have a presence at D23 are as follows: The Muppets, John Carter, Brave, The Avengers,  Frankenweenie, Oz: The Great and Powerful, The Odd Life of Timothy Green, Wreck-It Ralph, and Monsters University. Attendees will also get to see the new, 3D version of The Lion King. Read more after the jump.
The news of the Disney films appearing at D23 was revealed via a press release that was first run by Coming Soon.
Basically, most of the films above will have stars in attendance and will be discussed during the Walt Disney Studios panel on August 20. However, The Lion King screening and Monsters University will be separate. In regards to the latter, it's a panel that will reveal some of the film's characters. Also, the release refers to some "surprise" and The Hollywood Reporter seems to think that could mean Johnny Depp and Armie Hammer will show up to talk about The Lone Ranger.
All the info is in the press release below. We'll have coverage of D23 in the coming weeks so keep checking back .
Exclusively at Disney's D23 Expo August 19-21 at the Anaheim Convention Center, Disney film fans will go behind the scenes to explore the exciting roster of projects on the horizon at The Walt Disney Studios, with a variety of panel discussions, sneak peeks, and exhibits.On Saturday, August 20, Rich Ross, chairman, The Walt Disney Studios; Sean Bailey, president, Production, The Walt Disney Studios; John Lasseter, chief creative officer, Walt Disney and Pixar Animation Studios; and Kevin Feige, producer and president, Marvel Studios, will present a not-to-be-missed look at The Walt Disney Studios' upcoming film slate, which includes Disney's The Muppets, John Carter, Disney-Pixar's Brave, Marvel's The Avengers, Tim Burton's Frankenweenie, Oz: The Great and Powerful, and more.With projects from Disney, Pixar Animation Studios, and Marvel Studios, this special presentation will feature never-before-seen footage and all-star appearances by Jason Segel, Kermit, and Miss Piggy (Disney's The Muppets), Taylor Kitsch, Lynn Collins, and Willem Dafoe (John Carter), Kelly Macdonald and Kevin McKidd (Brave), Jennifer Garner (The Odd Life of Timothy Green), Jack McBrayer and Sarah Silverman (Wreck-It Ralph), cast members from Marvel's The Avengers, and other surprise guests.In celebration of 25 years of moviemaking magic, five sessions will be devoted to the artistry and technical wizardry of Pixar:* A Conversation with the Pixar Creative Team – Enjoy a rare opportunity to spend some time with the key figures responsible for Pixar's unprecedented success, including John Lasseter (chief creative officer, Walt Disney and Pixar Animation Studios), Jim Morris (general manager, Pixar Animation Studios), Pete Docter (director, Monsters, Inc., Up), Andrew Stanton (director, Finding Nemo, WALL-E), Bob Peterson (co-director, Up), Lee Unkrich (director, Toy Story 3), Mark Andrews (director, Brave), and Dan Scanlon (director, Monsters University).* The Characters of Monsters University – Director Dan Scanlon and Production Designer Ricky Nierva discuss how they combine hair, horns, and a lot of heart to bring the wonderful Monsters University characters to life.* Michael Giacchino's Music of Pixar – In this musical presentation, award-winning composer Michael Giacchino explores his early influences through the creation of modern-day classic scores from Ratatouille, Up and Cars 2.* The Art of Brave – Production Designer Steve Pilcher and Shading Art Director Tia Kratter show how they and their team put paint to canvas and fingers to computer keys to create the stunning visuals of Scotland for Disney/Pixar's upcoming film Brave.* Pixar Shorts – This retrospective screening of the animation studio's legendary short films will be followed by a panel discussion with several of the filmmakers, including Ralph Eggleston (director, For the Birds), Andy Jimenez (director, One Man Band), Angus MacLane (director, BURN-E), Pete Sohn (director, Partly Cloudy), Teddy Newton (director, Day & Night), and Enrico Casarosa (director, La Luna).Expo attendees will also have access to advance screenings of an all-new 3D version of The Lion King, presented by RealD 3D, coming to theaters and homes this fall, and the upcoming ABC holiday special Prep & Landing: Naughty vs. Nice from Walt Disney Animation Studios.Out on the Expo floor, fans can explore the world of The Walt Disney Studios at their leisure with comprehensive exhibits, including:* Walt Disney Studios Animation Pavilion – Experience the art, technology, culture, and legacy of Walt Disney Animation Studios with filmmaker demonstrations, drawing classes, book signings, meet-and-greets, and art exhibits.* Walt Disney Studios In-Home Entertainment Pavilion – Dive into cutting-edge home entertainment technology and learn what the future holds for Disney movie fans, with sneak peeks of upcoming films in breathtaking high-definition Blu-ray 3D – and more.* Inside Tides: Pirates of the Caribbean Film Prop Collection – Get an up-close look at an exclusive collection of detailed set pieces, props, and costumes from the billion-dollar blockbuster Pirates of the Caribbean: On Stranger Tides.Tickets to D23 Expo 2011 are available at D23Expo.com. Admission includes access to all experiences and entertainment at the D23 Expo and can be purchased for single days or for three full days of festivities. Admission is $42 for a one-day adult ticket and $32 for children 3-12. Three-day passes are $121 for adults and $91 for children. Members of D23: The Official Community for Disney Fans will receive a discount on admission as well as early entry to each day of the D23 Expo for themselves and their guests. More details about D23 Expo entertainment, events and special guests will be announced in the coming weeks. Fans can keep up with all the news by visiting D23Expo.com, as well as by following "Disney D23" on Twitter and Facebook.About D23 Expo 2011The D23 Expo – The Ultimate Disney Fan Event – brings the entire world of Disney under one roof, providing attendees with unprecedented access to Disney films, television and theme parks. For schedules, live updates, interactive features and tools, polls and much more, check out the D23 Expo mobile app at www.D23mobile.com! To be part of the D23 Expo conversation, make sure to follow @DisneyD23 and tag your tweets with #D23Expo. For questions during the D23 Expo, get answers by sending tweets to @D23Expo