Watch A Video Of The Impressive Dragons In The 'How To Train Your Dragon' Arena Show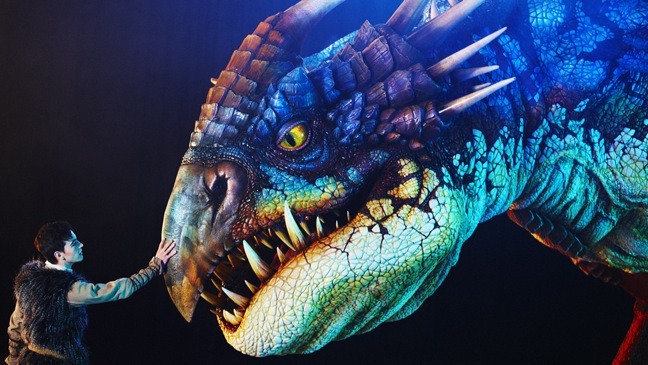 How To Train Your Dragon fans won't necessarily have to wait until 2014 to see their favorite characters again. Hiccup, Toothless and the whole crew could soon be flying into to an arena near you. DreamWorks and a live entertainment company named Global Creatures just announced that the How To Train Your Dragon Arena Spectacular will premiere in Australia in March 2012 before hitting New Zealand and then landing in the United States by June 2012. The show will tell the story of the first film but in a live-action setting featuring 80 cast members and 24 unique animatronic dragons.
Read more about the show and watch a video of one of the dragons in action after the jump.
The Hollywood Reporter broke the news of the show's announcement but the video, below, was from an io9 article. It looks pretty impressive.
DreamWorks and Global Creatures, the company behind Walking With Dinosaurs, have been working on the project for five years and it cost about $20 million. Watching the above video and reading quotes below, I have no idea how Spider-Man Turn Off the Dark cost more than three times that. It's crazy.
"The complex animatronics, the cast of eighty including Viking warriors and villagers as well as world-class circus and acrobatic performers, all are quite ambitious," according to DreamWorks Animation chief creative officer Bill Damaschk. Jeffrey Katzenberg, the CEO of the company added this:
In our film, audiences around the world were transported to the mythical world of Vikings and dragons... and now, we are excited to immerse them in a one-of-a-kind live event in the How To Train Your Dragon Arena Spectacular. The innovative team at Global Creatures and the creative storytellers at DreamWorks Animation have done an inspired job in every imaginable way to present this story on an unprecedented scale that will take audiences to unforgettable new heights.
The How To Train Your Dragon Arena Spectacular is directed by Nigel Jamieson who cast all the parts with actors from all over the world.
Do you think this show will be able to duplicate the excitement of the movie? Will you try to see it when it comes near you?