'Take This Waltz' Clips: Seth Rogen And Michelle Williams Wrestle With Infidelity In Sarah Polley's Second Directorial Effort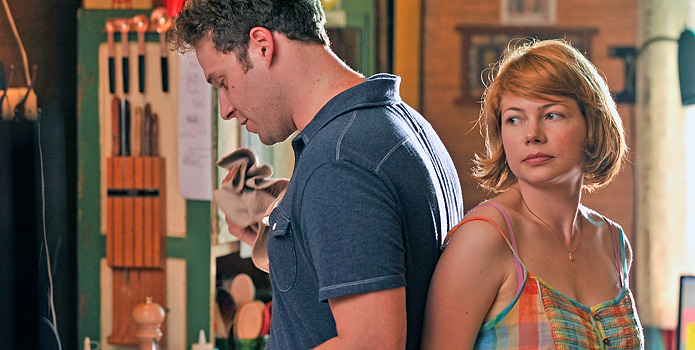 Multi-hyphenate Sarah Polley first gained attention as a director at the 2006 Toronto Film Festival, where she premiered her first feature, Away From Her. Subtle and bittersweet, the film demonstrated an assuredness not often seen in such young, relatively inexperienced filmmakers, and Polley was rewarded with several nods and wins when awards season came. This year, Polley will return to TIFF to premiere her follow-up project, Take This Waltz — and thanks to three new clips that have hit the web, we have a decent idea of what to expect.
The new film stars Michelle Williams and Seth Rogen as a married couple whose relationship hits a rough patch when Williams' character finds herself tempted by a new man (Luke Kirby). Sarah Silverman also appears, as Rogen's sister. Watch the videos after the jump.
[via The Playlist]
On the surface, Take This Waltz seems fairly different from Away From Her — the characters in Take This Waltz are decades younger, and wrestle with infidelity instead of dementia. However, based on these three or so minutes it appears Polley hasn't lost her touch for subtle, complex drama.
Williams has made her reputation on quiet indie films like this one, so her presence here is welcome if not especially surprising. Less expected is the casting of Rogen and Silverman, two actors primarily known for their R-rated comedic chops. I don't think either of them have done many straightforwardly dramatic parts, so it'll be interesting to see how they acquit themselves here.
Synopsis:
When Margot, 28, meets Daniel, their chemistry is intense and immediate. But Margot suppresses her sudden attraction: she is happily married to Lou, a celebrated cookbook writer. When Margot learns that Daniel lives across the street from them, the certainty about her domestic life shatters. She and Daniel steal moments throughout the steaming Toronto summer, their eroticism heightened by their restraint. Margot finally gives in to desire and in doing so, discovers some unsettling truths about herself. Swelteringly hot, bright and colorful like a bowl of fruit, Take This Waltz leads us, laughing, through the familiar but uncharted question of what long-term relationships do to love, sex, and our images of ourselves.