Cool Stuff: 'Monster Squad' And 'Night Of The Creeps' Art Plus Signing And Screening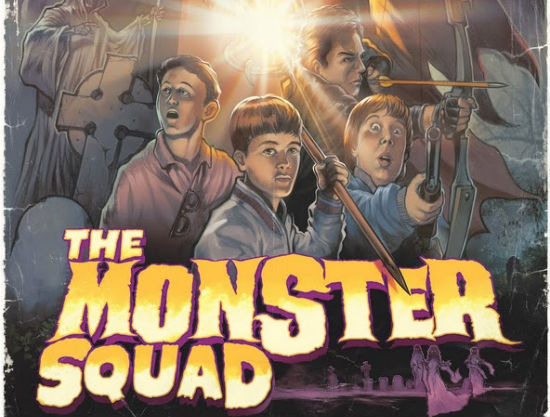 Growing up, I wanted to be a member of The Monster Squad. They were the Ghostbusters but younger, The Lost Boys but living, The Karate Kid but with friends. And they could curse and shoot shotguns. Fred Dekkar's salute to childhood and Universal monsters didn't do too well at the box office, but has since become an all-time cult classic. Fans of the film probably also know that his first movie, Night of the Creeps, enjoys the same kind of underground success and fans of both those films have something very special happening Saturday night in Los Angeles. Something I'm proud to be a part of.
Monster Creeps is a one night only tribute to the first two films of director Fred Dekkar: Night of the Creeps and The Monster Squad. It begins at 8 p.m. with a two hour gallery show of art inspired by the film during which Dekkar will a signing. Then, once that's over, things shift over to a Q&A that I'll be hosting with the writer/director before an intimate screening of The Monster Squad.
After the jump, check out a bunch of art from the show and read all the information you'll need to attend. Hope to see you there.
Here's the info for the event followed by art from the show:
CHOGRIN PRESENTS: MONSTER CREEPS, an art show & tribute to the films by Fred Dekker (Night of the Creeps / Monster Squad), featuring art from members of the Autumn Society & other special guests!FEATURING: An appearance & signing by writer & director Fred Dekker (with purchase of poster)WHEN: Saturday, August 6th (8pm-10pm)WHERE: Dark Delicacies ( www.darkdel.com / 3512 W. Magnolia, Burbank, CA 91505 )SPECIAL SCREENING: A special screening of Monster Squad will be held at the Banshee theater ( www.theatrebanshee.org / 3435 W. Magnolia Blvd., Burbank 91505 ) with a Q&A moderated by Germain Lussier of Slashfilm.com. The screening stars at 11 p.m. and will be first come, first served.ART: View the art featured in the show (updated weekly) http://monstercreeps.blogspot.com/p/art.htmlMORE ABOUT: Read on how this show came to be http://monstercreeps.blogspot.com/p/about.htmlSPONSORED BY: Stange Kids Club (www.strangekidsclub.com) / Fright Rags (www.fright-rags.com) / Dead of Night Radio (deadofnightradio.blogspot.com) / The Autumn Society (www.theautumnsociety.com)WEBSITE: http://monstercreeps.blogspot.com/
Mouse over each piece to get the artists name. Their websites are at the above link.
And that's just some of the art. I can't wait to check it out, talk to Dekkar and watch the movie one more time.