'Take Shelter' Director Casts Matthew McConaughey And Reese Witherspoon In 'Mud'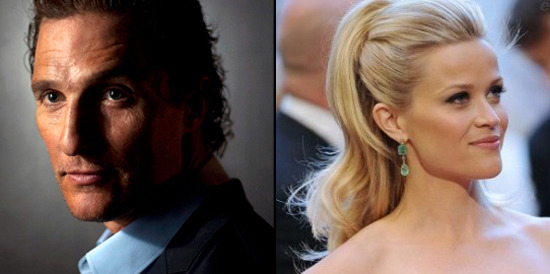 One of the bigger festival hits of this past year was Jeff Nichols' second film Take Shelter, starring Michael Shannon and Jessica Chastain. (Check the trailer for Take Shelter here.) The director has been planning to follow up that film with Mud, a story about a fugitive aided by a 14 year-old boy in a plan to reunite with the woman he loves. Earlier this year Chris Pine was said to be set for the title role. He seems to have dropped out, and now Matthew McConaughey will play the part instead, with Reese Witherspoon playing the object of his affection.
Deadline summarizes Mud as "a redemptive tale of a charismatic fugitive and his unlikely friendship with a 14-year-old kid who is determined to help Mud escape from the law and some tough bounty hunters so he can reunite with his soul mate Juniper." Tye Sheridan (The Tree of Life) is in talks to play the boy.
Earlier this year the LA Times said of the film, "the ambiguity of the story lies with Mud, who is both an unsavory and a redemptive character and who teaches the boys as much as he learns from them." Note the plural, 'boys;' I can't tell if you if that was a mistake on the LAT's part, or if the script has been streamlined. More likely the former. Regardless, the tale has been compared to Huck Finn and Stand By Me, but all I need to know is that it comes from the person behind Take Shelter.
Matthew McConaughey has been on a slight renaissance tear of late, with The Lincoln Lawyer, Richard Linklater's Bernie and upcoming roles in William Friedkin's Killer Joe and Lee Daniels' The Paperboy making it seem like he has decided to sidestep the middlebrow romcom path he's been on for a while. Reese Witherspoon could use her own reinvention, as most of her post-Walk the Line films have also been pretty forgettable. What we know about Mud so far suggests that she might not have a particularly big role, but here's hoping that it's a step in the right direction, regardless.