First Pics And Clips: Werner Herzog's Prison Documentary 'Into The Abyss'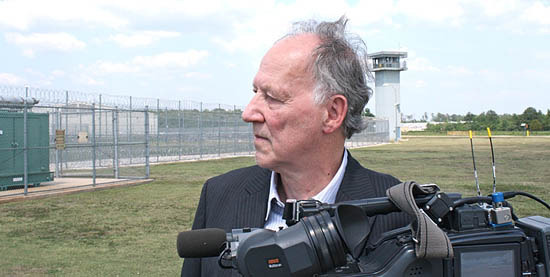 Warning: this isn't going to be quite the ideal easygoing Friday afternoon post. But when new info arrives on the latest documentary from Werner Herzog we've got to run with it, even if the subject matter is pretty dire. Specifically, Into the Abyss is a film about several death row inmates in the Texas prison system: three men convicted of murder, including one man who killed his girlfriend and her two mentally handicapped sons, and a woman convicted of kidnapping and murder. Werner Herzog talks to these people as well as to their families and victims, and by the looks of the three clips below, the result may be his most intense film in some time.
The TIFF YouTube channel today offered up three clips from Into the Abyss, and some images have come online as well. All together, this should give you quite a good idea of what the film represents. I can't wait to see it, and expect I might walk away from the viewing with some altered attitude about the prison system.
Werner Herzog ("Cave of Forgotten Dreams," "Grizzly Man") explores the legacy of a triple homicide in Texas interviewing the victims' families and those convicted for the crime including one man on death row, eight days before his execution.
Into the Abyss will play at TIFF next month, and be broadcast on Investigation Discovery.