MRC Gets Behind David Cronenberg Adaptation Of Jonathan Lethem's 'As She Climbed Across The Table'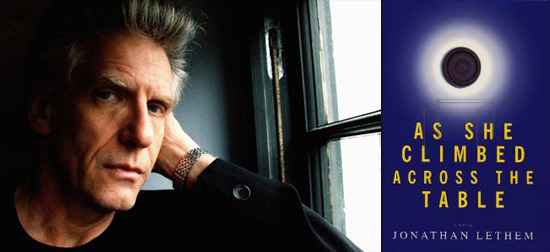 Who would have thought that David Cronenberg might be the first to bring a Jonathan Lethem adaptation to the screen? Quite a few producers and other filmmakers have tried to mount films based on Lethem novels over the years. Most famously, Edward Norton has been slowly brewing a screen version of the great novel Motherless Brooklyn, as a starring/directing effort.
Last year we heard that David Cronenberg was attached to direct a film based on the author's third novel, As She Climbed Across the Table. It's a book that features love, physicists, and a semi-sentient black hole. If that sounds like a tricky prospect, just cast your memory back across David Cronenberg's impressive resume, considering particularly that he's the man who made a bloody great movie out of the nigh-unfilmable novel Naked Lunch. Then read on for the details about how the film just took a step closer to realization.
In some ways, not much has changed on the project in the past year. There's the director, the book, and screenwriter Steve Zaillian acting as producer. Deadline announces new details: that Media Rights Capital has picked up that whole package, and that Bruce Wagner is scripting. (I would guess that Cronenberg will end up doing his own pass on the script before shooting, as he is often wont to do.)
So MRC (the same company behind current projects like Neill Blomkamp's Elysium, and with which David Fincher has a development deal) may finance the film itself in conjunction with the deal the company has with Universal, or may  make a deal with another studio. Regardless, this is a forward step for a project I would be very happy to see come to fruition.
As for the overall promise of the project, I'll reiterate what I said over a year ago when this project first came up: In typical Lethem fashion, the novel is rather complex. While it has no small suggestion of cinematic influence and potential, there's also enough going on, and such a whirlwind of peculiar detail, that a film adaptation would be a tricky prospect. But if anyone can do it, it might be David Cronenberg.
Particle physics, false vacuum bubbles, an alternate universe–this is the stuff of Jonathan Lethem's novel As She Climbed Across the Table. The tale echoes Alice in Wonderland in its mad tumble through a rearranged reality. Narrator Phillip Engstrand is a university professor who has made a career out of studying academic environments. Engstrand is in love with Alice Coombs, a particle physicist engaged in a bold attempt to replicate the origins of the universe. The result of the experiment is Lack, a very selective black hole that sucks some things into its void–a cat, a pair of socks, a strawberry–and rejects others, namely, a love-struck Alice. As Alice's unrequited obsession with Lack grows, Phillip becomes so desperate to save his beloved from this empty rival that he risks a journey down the metaphysical rabbit hole.