'Anonymous' Trailer #2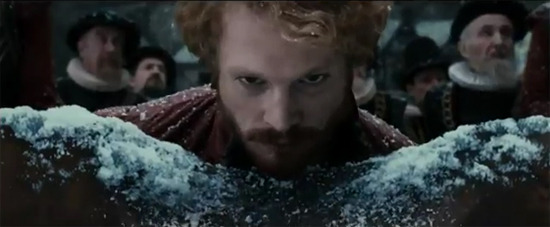 Roland Emmerich's new film, the 'who really wrote Shakespeare's plays' conspiracy tale Anonymous, got a little prestige bump when it was programmed as part of the Toronto International Film Festival. But let's face it: as much as we celebrate TIFF, and with very good reason, a festival packed with hundreds of films is going to spotlight a few clunkers. Will Anonymous be one of those?
A second trailer has dropped for the picture, and it retains the Radiohead track ('Everything in its Right Place') that scored the first trailer, but significantly ups the silliness factor. This trailer might not give you much of an idea about the actual story in the film, but it will offer the heads-up that it is all very, very serious.
Despite the very palpable camp factor here, I'm on board with Anonymous for two reasons: the cast, and the idea of seeing excessive showman Roland Emmerich turn his attention to the recreation of this particular era in history. (Look at those slow overhead camera swoops, so full of pretty pixels!) He might not be trying to destroy olde England outright, but he's still interested in tearing things down. This time, it's a tearing down of ideas, rather than buildings. So subversive!
The cast features Edward Hogg, David Thewlis, Vanessa Redgrave, Rhys Ifans, Joely Richardson, and Rafe Spall.
After bowing at TIFF, Anonymous will open in general release on September 30.
Set in the political snake-pit of Elizabethan England, Anonymous speculates on an issue that has for centuries intrigued academics and brilliant minds ranging from Mark Twain and Charles Dickens to Henry James and Sigmund Freud, namely: who was the author of the plays credited to William Shakespeare? Experts have debated, books have been written, and scholars have devoted their lives to protecting or debunking theories surrounding the authorship of the most renowned works in English literature. Anonymous poses one possible answer, focusing on a time when cloak-and-dagger political intrigue, illicit romances in the Royal Court, and the schemes of greedy nobles hungry for the power of the throne were exposed in the most unlikely of places: the London stage.