'Monsters' Director Gareth Edwards' Next Movie Is Being Pitched As "A Robot Star Wars", First Details Revealed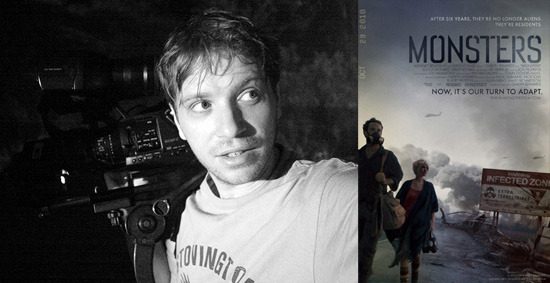 British director Gareth Edwards burst onto the scene with the low budget science fiction film Monsters, catching the eye of everyone in Hollywood. He landed the job to direct a new Godzilla movie for Legendary Pictures, which is being rewritten by Superman/Batman scribe David Goyer. A Monsters sequel is being developed, which Edwards won't direct. He's also developing a top secret science fiction film with Russian director turned producer Timur Bekmambetov (Wanted, The Darkest Hour, Night Watch). Not much has been revealed about this project, until now. Details after the jump.
My good sources tell me that the still untitled project is about a young human child (probably around 5 years old) and a robot who travel across the galaxy in search of mankind's origin in a world void of humanity and filled with robots. Sounds pretty awesome right? Gareth is pitching this project as "a robot Star Wars."
I've heard they are still figuring out the script, so it might evolve from there, but this storyline fits the released vague description of an "epic human story, set in a futuristic world without humanity." The director had also told The Playlist that it was "a science fiction film, it's way more ambitious than Monsters."
"It will require all my resources. The trick is to take the positive elements of having more money and the positive elements of having no money, and try to combine the two."
It is also worth noting that Columbia Pictures, Platinum Dunes and Circle of Confusion are developing a big screen adaptation of the Chris Ryall/Ashley Wood graphic novel Zombies Vs. Robots, which shares a few similarities with the Edwards/Bekmambetov project (at least in a broad perspective). The screenplay adaptation by writer/director JT Petty (The Burrowers, S&Man) is set after the Zombie apocalypse, and follows a young girl who is the last known survivor of the human race. Protected by a group of robots, she roams a world overrun with zombies, some of whom have developed ways to remain intelligent and evolved. It has also been reported that Michael Bay might be interested in directing the adaptation.
Rumor has it that Edwards is planning to shoot his Sci-fi film for only $35 million. To give you an idea of scale, that is only about one fourth the budget of any of George Lucas' Star Wars prequels (not accounting for inflation, as those movies were made a decade ago). We know from Monsters that Edwards knows how to stretch the slightest amount of money and is able to add huge production value out of very little. I'm not sure anyone has commited to make Edwards' next film, but with such a low price tag, I don't think it will be a hard sell.