'The Sitter' Red Band Trailer, Adventures In Babysitting Meets Superbad Starring Jonah Hill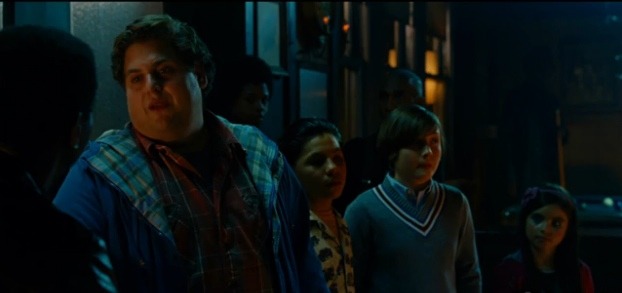 20th Century Fox has released a red band movie trailer for David Gordon Green's Jonah Hill comedy The Sitter. The film has been described as Adventures in Babysitting meets Superbad, and the story follows a suspended college student named Noah who gets talked into baby-sitting the eccentric kids next door — two boys and a wild 8-year-old girl.
A couple years ago, I had a chance to read an early draft I read was pretty great. The Adventures in Babysitting comparison is good, as it is basically an R-rated version of that film. And you'll see a taste of that in this uncensored trailer. I should also note that the trailer features a one-minute introduction from Hill, alongside the film's child cast saying, as you might imagine, completely inappropriate things. If you just want to see the trailer, you can fast forward to the 1:20 mark. Watch it now embedded after the jump. Please leave your thoughts in the comments below.
The movie was made from a spec screenplay by Brian Gatewood and Alessandro Tanaka — a duo who made a name for themselves with a college comedy script titled Who the Hell is Sanjay Patel, which landed on the 2006 Blacklist (a list of the best unproduced screenplays in Hollywood that year).  Jonathan Levine, director of The Wackness, was originally set to helm the film but went on to direct 50/50 instead. David Gordon Green comes from an independent film background, which includes the films George Washington, All The Real Girls and Snow Angels. He's since transistioned into comedies, and is probably better better known as the director of Pineapple Express and Your Highness.
Movie Trailer Thanks to IGN: