Superhero Bits: Amazing Spider-Man, Dark Knight Rises, Green Lantern 2, Captain America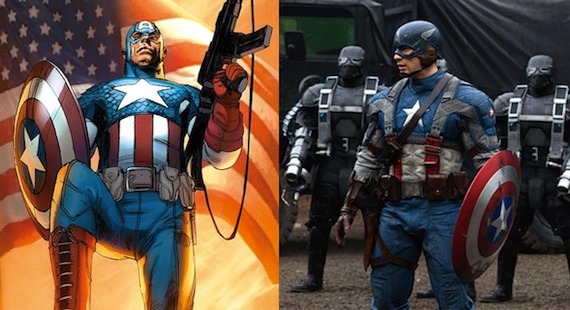 It's going to be tough to beat your first official look at Man of Steel in today's Superhero Bits but we'll do our best. How does Marc Webb explain the point of view in The Amazing Spider-Man trailer? What are the main differences between Captain America: The First Avenger and the comics? Would you like to see Anne Hathaway on the set of The Dark Knight Rises? And what do Ryan Reynolds and the CEO of Time Warner have to say about Green Lantern 2? Read about all this and more in today's Superhero Bits.
Screenrant has an awesome, epic article called The Ultimate Captain America Comic Book and Movie Comparison Guide which goes into details with the changes made in the latest Marvel movie. We used one of their images above, so thank you very much.
Many people have complained about the point of view section of the trailer to The Amazing Spider-Man. Marc Webb spoke to MTV News about the topic and explained.
The CEO of Time Warner, Jeff Bewkes, discussed the under-performance of Green Lantern and said that a decision on a sequel will be decided upon "in due course." That doesn't sound promising. You can read more on the matter over on The Hollywood Reporter.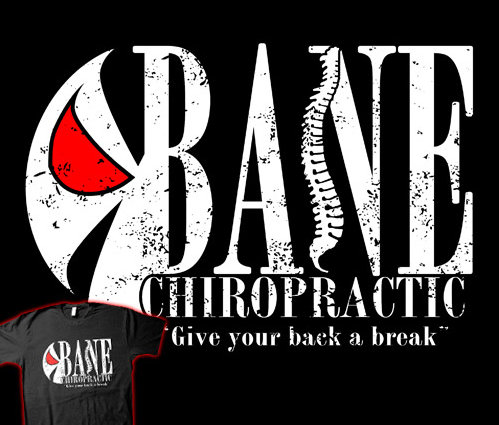 Probable Dark Knight Rises spoiler on this t-shirt, which you can purchase at Shirtoid (Via Fashionably Geek)
Everyone is waiting to see Catwoman on the set of The Dark Knight Rises and here she is! Well, kind of. It's Anne Hathaway and she's in Selina Kyle wear, not Catwoman's costume, but that's her after a day of filming interiors. Thanks to Subaru WRX Fan (via CBM) for the video. There are more images and videos at that link.
Slice of SciFi has a list of very geeky guest stars who are going to be on the new SyFy superhero themed TV show Alphas. Head over there to check it out.
Ryan Reynolds spoke to MTV News about R.I.P.D., which should be followed by Deadpool and also comments on Green Lantern 2.
Den of Geek has come up with a list of eight things comic book movies can learn from Captain America: The First Avenger. It's a solid list. Here's one example, "Hire a director with a vision, and let him realize it:"
Captain America unspools with the confidence and momentum of a seasoned pro. Director Joe Johnston has had a fascinating history in moviemaking.. In his own directing career, he's made some troubled productions watchable (Jurassic Park 3, The Wolfman), while creating some bona fide gems (The Rocketeer, October Sky). In many ways, it seems his whole career has led him to Captain America. Even more impressive, it appears as if Marvel actually gave him the time, budget, and autonomy to make the movie he wanted. The result is a film with a look, feel, and pulse that is unique and refreshing. You don't feel studio meddling here. Just a story being told by a filmmaker who finally has the freedom to spread his wings and deliver a love letter to the rollicking serials he's always loved.
Due to the amount of graphics and images included in Superhero Bits, we have to split this post over TWO pages. Click the link above to continue to the second page of Superhero Bits.
[No photo]
"Hey Gotham, are you ready to RAWK?" That's the caption given to this hilarious moment captured from The Dark Knight Rises set over on the JoBlo Twitter feed. I don't think Batman really rocks the mike in the film, more likely between shots he was picking one up, but what a great shot.
Marvel Editor In Chief Axel Alonso talks about Miles Morales, the new Spider-Man over on AOL TV.
One of the stars of the last Spider-Man series, now mega-star James Franco, spoke to ShortList Magazine about the new film, The Amazing Spider-Man:
I had a great time on the Spider-Man films and Tobey [Maguire], Kirsten [Dunst] and Sam Raimi [the series' director] have all become lifelong friends. My role in those films was not my favourite but I'm OK with the new one. The thing is, the technology is advancing so fast that often the new renditions sell themselves as having the cutting-edge technology. What early versions couldn't do even five or 10 years ago, these ones can — whether that's exciting new effects or whatever. Sometimes it's about the new actors, but if you think about the first Batman films, those performances are great. You'll always remember Jack Nicholson as The Joker regardless of what new technology comes along.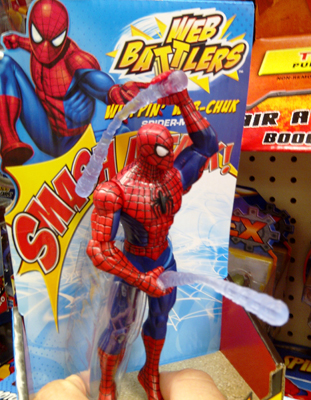 Maxim has found this photo of Spider-Man that someone had some fun with in a store. Pretty damn funny.
Swipelife has come up with a great, metrosexual superhero list: The 15 Most Stylish Comic Book Heroes. Tony Stark, Gambit, pretty decent list.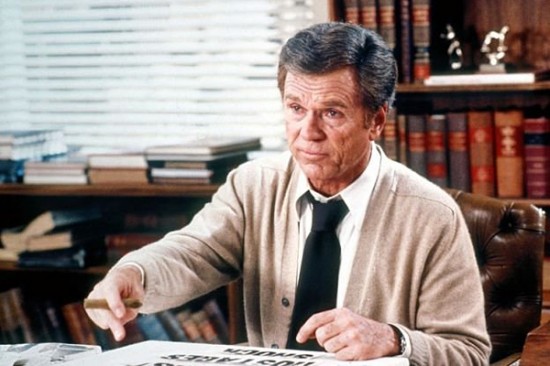 You probably heard that Laurence Fishburne has been cast as Perry White in Man of Steel so MTV decided to go through the history of actors to play the part, including everyone's favorite, the late Jackie Cooper from the Donner films.
Hollywood goes through cycles with its villains. Germans, Japanese, Russians, Terrorists, we all know the list. HyperVocal has done a nice job of going though the history of these supervillains, as it were, and you can check it out there.
HBO will soon be premiering a documentary about real life people who are training themselves as Superheroes. That's the trailer above and you can read more over on Wired.
Oh you dumb telemarketers. Read more comic books or at least watch some movies. Listen to this pranks call found thanks to Nerd Bastards.