First Look: Bobcat Goldthwait's Pitch-Black Comedy 'God Bless America'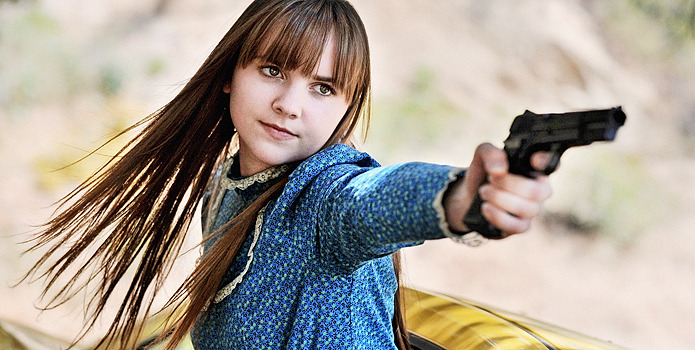 Today the Toronto International Film Festival announced many new films, including the full feature documentary slate and the Midnight Madness picks. The latter is the suite of ten films that represents the festival's genre offerings; the program is one of the best at any festival, period.
I was thrilled to see that one of the 2011 Midnight Madness offerings is God Bless America, the new film from Bobcat Goldthwait. His last picture, World's Greatest Dad, is one of the best and most bleak comedies of the past few years. It can be so savage that it almost edges out of the comedy realm and into the lands of pure discomfort; that's one of several reasons I love it. That movie has balls. I'm hoping for nothing less from God Bless America, in which a middle-aged guy and a young girl go on a killing spree inspired by hatred for the garbage glut of MTV 'reality' shows.
Joel Murray plays the guy and Tara Lynne Barr plays the girl that joins his rampage. And while the basic premise is pretty crazy and broad, we can hopefully expect some very pointed satire aimed at targets far and wide. Here's how Bobcat Goldthwait described the film earlier this year:
There's a middle aged guy and he's at home watching a show like My Super Sweet 16, you know that show?...there's always a horrible kid who gets everything she wants..."I wanted an Escalade! You ruined everything!" So he's sitting at home watching a show like that, and he drives 400 miles and kills that girl — spoiler alert! — and then her friend, well not a friend, a classmate, is going "did you kill Chloe?" and he doesn't say anything, and she goes "awesome." So then they get in this stolen Camero and drive around and kill people. We're hoping for a Christmas release.
The TIFF website offers this synopsis:
It's a Bonnie and Clyde for the 21st Century as a 45 year old man and a teenage girl go on a killing spree in comedian Bobcat Goldthwait's angry and bloody black comedy.