WB Has 'Solid Script' For 'The Flash,' Still Eying 'Justice League' Movie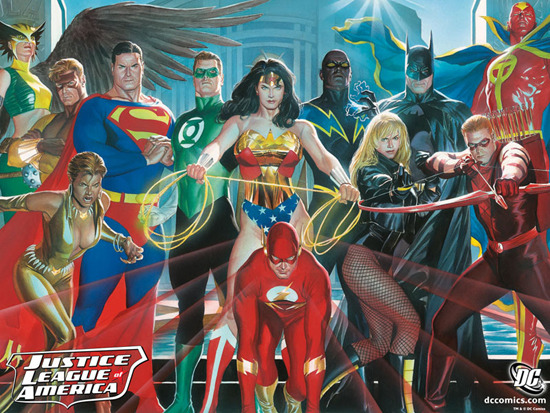 Jeff Robinov, the president of Warner Bros. film group, recently started quite a stir saying that he'd like to see a Green Lantern sequel be "a little edgier and darker." At the same time he also foreshadowed the future of DC superhero movies beyond The Dark Knight Rises and Man of Steel in 2012 and 2013 by saying they have a "solid script" for The Flash and that they'd still like to bring all the heroes together for a Justice League movie. Read more after the jump.
The quote was in the same article where Robinov dropped the Green Lantern info over at the Los Angeles Times Hero Complex. Here's the excerpt:
Of course, the future of DC superhero movies is still somewhat up in the air. "The Dark Knight Rises," the final chapter of director Christopher Nolan's Batman trilogy, comes out next summer, followed by Zack Snyder's Superman reboot, "Man of Steel," in June 2013. Later that year or in 2014, Warner could go ahead with a second Green Lantern or Flash movie. Robinov said the studio has "a solid script" for the Scarlet Speedster. The executive also remains interested in bringing DC heroes together for a "Justice League" movie.
He's most likely referring to the script Greg Berlanti, Michael Green and Marc Guggenheim were writing last year. We haven't heard much about that script in a while, probably because all of WB's energy has been focused on releasing Green Lantern and getting The Dark Knight Rises and Man of Steel going. But it's nice to know that's out there and is, supposedly, "solid." The Flash is a much simpler, more familiar and -  one would think – easier to digest character than Green Lantern. He runs fast. What more do audiences need to know?
As for the Justice League movie, Warners and DC have been talking about it for a while but – unlike Marvel – haven't really laid any groundwork to make it feasible that heroes like Batman, Superman and Green Lantern all exist in the same world. Maybe that'll start to happen if Batman gets rebooted in a few years once Christopher Nolan is done with it. The question becomes, is that a necessity? Many think the insistence in tying all the Marvel characters together for The Avengers hampered films like Iron Man 2 and Thor. Maybe the way to go is to make these movies, then tie it all together later in a really great script.
What are your thoughts on all this? Can The Flash be a hit? Will we ever, really, see a Justice League movie?