Superhero Bits: Man Of Steel, The Avengers, Green Lantern, The Joker
[No photo]
It's a bird, it's a plane, it's Henry Cavill sporting his Man of Steel haircut! Want to see another photo? Maybe you want to read how he's preparing his mind and body for the role of Superman? Curious about a Batman themed fan-film called GCPD? What set from The Avengers could be moving across into Iron Man 3? And do we have a major clue to the ultimate baddy in The Dark Knight Rises? Read all of this, and more, in today's Superhero Bits.
[No photo]
Doesn't that picture just bring a tear to your eye? It's Henry Cavill, of course, sporting his best Superman hairdo in preparation for Zack Snyder's Man of Steel. The pics come from Moviehole (via Ain't It Cool).
Speaking of Cavill, he talked to Total Film about the role in Man of Steel. He talked about wearing the suit, and the preparation to get into it:
I'm on 5000 calories a day... You've got to eat protein first, then a little bit of carbs...you've gotta keep your hunger levels going. I'm training two and a half hours a day, pushing my body beyond its normal limits, putting on a lot of muscle mass and just making myself look like Superman.
So that's how Henry Cavill is exercising his body. What about his mind? io9 asked him which Superman comics he read and enjoyed in preparing to be Man of Steel:
I did love Superman: Doomsday, The Death of Superman, Superman Returns, The New Krypton Saga especially, Red Son. Red Son was cool because it had the alternate story line. A lot of them I love, but recently, the one I read most recently was The New Krypton Saga, and I really enjoyed that.
CNet (via CBM) talked to Joss Whedon at Comic Con and he definitely said that Ant-Man is not in The Avengers. But it has been a challenge for him.
The late, legendary comic book artist Jack Kirby has been in the news lately because of his family's lawsuits with Marvel. But since many younger people might not know the man responsible (or not so, according to the courts) for the look of iconic characters like Captain America and the Hulk, Gamma Squad has come up with 17 things you may not know about Jack Kirby.
Luke Skywalker might be best known for voicing the Joker these days and that's what he talks about in this clip from The Flickcast (via CBM). He mentions both Batman: Arkham City and The Killing Joke. Oh, wait, he's Mark Hamill, not Luke Skywalker.
News of a developing Doctor Strange movie broke earlier this week and that means fans can start wildly speculating about casting. What Culture has a bunch of great ideas (eight of them to be exact) of who could play the role but they're a little too ambitious. I mean, Johnny Depp? Dare to dream, I guess.
Due to the amount of graphics and images included in Superhero Bits, we have to split this post over TWO pages. Click the link above to continue to the second page of Superhero Bits.
GCPD from Andrew Blankenship on Vimeo.
Filmmaker Andrew Blankenship has made a very cool fan film called GCPD, a Batman influenced fan film that goes one way, then gets flipped on its head. Nice job, sir.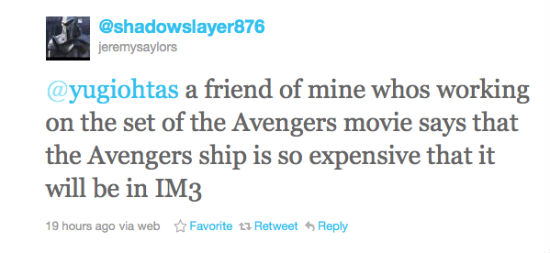 According to that tweet (via CBM) the Hellcarrier from The Avengers will appear in Iron Man 3, says the guy just reiterating what you just read. Obviously take it with a grain of salt, the guys has like 12 followers.
Entertainment Weekly helps Warner Bros and DC start their eventual Flash movie with five important lessons they can learn from the failure of Green Lantern.
POSSIBLE DARK KNIGHT RISES SPOILER BELOW. ENDS TWO PARAGRAPHS DOWN.
[No photo]
SPOILER! The above image shows Marion Cotillard walking around with armed guards on the set of The Dark Knight Rises. Badass Digest believes this could confirm the fact that her rumored character, Talia Al Ghul, is the ultimate baddy in the movie.
Yesterday, What Culture did a list of the 10 Things That'll Happen in The Dark Knight Rises. They've followed that up with the inevitable 10 Things That Won't Happen in The Dark Knight Rises. This list – including Prince soundtrack and Bat nipples – is a bit more obvious.
The superhero porno parody had its renaissance this summer with all the Hollywood superhero films released. Here's the latest one (via Nerd Bastards) making fun of Captain America: The First Avenger.
We all heard that Warner Bros. hopes to make a second Green Lantern "darker and edgier," a statement that got many fans very upset. Movieline came up with 9 ways Warner Bros. can actually make that statement true.