Ben Foster Is John Gotti Jr. In 'Gotti: In The Shadow Of My Father'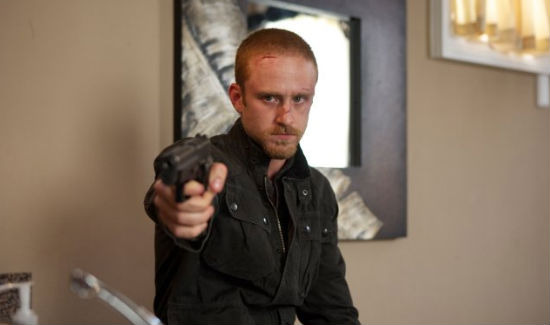 When John Travolta was cast as notorious gangster John Gotti, one had to assume that was the lead role of the movie. But when the title to the film was changed from Gotti: Three Generations to Gotti: In the Shadow Of My Father it became pretty obvious, Gotti Sr. wasn't the plum role. The role of John Gotti Jr. was and Ben Foster has just been cast to play him.
Despite some ongoing controversy, Gotti: In the Shadow Of My Father is scheduled to begin pre-production next month for a January start date. Foster and Travolta will co-star with Al Pacino and Kelly Preston under the direction of Barry Levinson. The real Gotti Jr. is a consultant on the project, which was recently in the news because Joe Pesci, once cast as Gotti's second in command, filed a lawsuit against the production company, Fiore Films. Read more about Foster, his role and the latest on the film after the jump.
Variety broke the news of Foster's casting and also mention that Levinson is currently rewriting the script which was originally by Analyze This writer Leo Rossi and touched up by James Toback.
In a statement, Foster spoke highly of Levinson who cast him in Pacific Heights, one of his first roles.
Barry Levinson was the first director who took a chance on me, and I have a career because of him. This is a film about family, fathers and sons. I am deeply honored for the opportunity to work with Barry and the amazing cast he is assembling to help bring the story of the Gotti family to the screen.
Ever since the film was first announced there's been a sort of blanket of uncertainty surrounding it, at least from the outside. The producer kept talking it up, he cast Lindsay Lohan, lost her, cast her again, then – we think – lost her again. Then they reportedly change Joe Pesci's role and tried to pay him less, which is why he's suing. And one would think all these things bode poorly for the film but, every few weeks, a new huge name is announced for the cast making everything seem peachy.
With Foster, Levinson has one of the most underrated male actors out there today. While studios keep giving actors like Channing Tatum huge roles, Foster takes the small movies and makes them huge through his performances. Turns in 3:10 to Yuma, Alpha Dog and The Messenger are proof of that. He should knock this role out of the park, especially with the actual person helping him through it all.
What do you think of this casting? Are you a fan of Foster?