Say Hello To 'Scarface' In Theaters One Night Only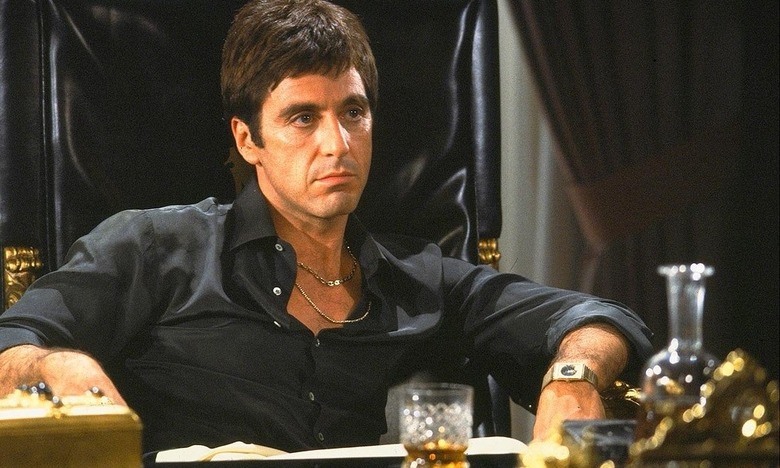 Grab your little friend, bury your head in a huge cup of coke...a cola and head out to your local theater later this month. On August 31, for one night only, the influential gangster remake Scarface, written by Oliver Stone and directed by Brian De Palma, is headed back to the big screen. The screening will help celebrate the September 6 Blu-ray release of the film and in addition to the movie itself, which features Al Pacino, Michelle Pfeiffer, Mary Elizabeth Mastrantonio and Robert Loggia, audiences will get their first look at a brand new documentary from the Blu-ray which features famous filmmakers talking about how much Scarface has influenced them.
Find out more about the screening after the jump.
Scarface will screen in almost 500 theaters nationwide and, to see a list of participating theaters and to buy tickets, you need to head over to Fathom Events.
Here's what Dan Diamond, the vice president of NCM Fathom, said about the event.
Almost 30 years after its initial release, Scarface remains iconic and stirs passionate responses from audiences around the world. Now, fans can experience Scarface like never before in theaters with spectacularly updated visual and sound quality, and never-before-seen elements in an historic, one-night event.
And while the screening itself sounds cool, the Blu-ray actually sounds better. Here are some of the details:
Fans of Scarface will enjoy the restored high-definition picture and 7.1 audio plus see exclusive new bonus content that reveals the film's iconic legacy as one of the greatest crime sagas of all time. For a limited time only, the Scarface Special Limited Edition Blu-ray comes with collectible SteelBook packaging, 10 exclusive art cards, a digital copy of the film and a DVD of the original 1932 Scarface, making it a must-own addition to every film fan's library. And, for the ultimate collector and cigar enthusiast, an elegantly hand-crafted Scarface-themed humidor will also be made available in an exclusive, never-before-available, limited edition.
A copy of the original film and a steel package? Very nice. But, really, do you need anything more than the chance to see this totally-not-dated montage in glorious HD? Are you gonna head out and see Scarface again?