'Die Hard 5' Director Short List Includes Joe Cornish, Justin Lin And Nicolas Winding Refn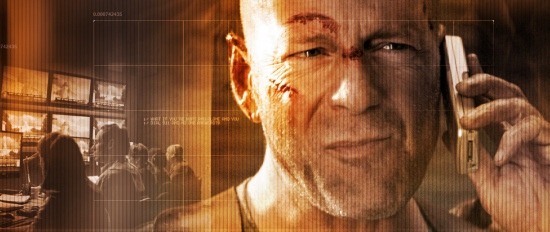 The potential Die Hard 5 excitement level is going up and down like an express elevator from Hell. For months we'd just assumed that Noam Murro was going to direct the inevitable next chapter in the Bruce Willis action saga, but when he signed for 300: Battle of Artemisia, it looked like the job was going to John Moore. Now, mere hours after that news broke, it turns out that's only a half truth. Moore, who directed Max Payne, The Omen, Flight of the Phoenix and Behind Enemy Lines is still in the mix, but he's reportedly on a short list with the, no offense to Moore, much more exciting directors including Joe Cornish, Justin Lin and Nicolas Winding Refn. Read more after the jump.
Deadline first reported that Moore doesn't officially have the job and that Cornish, Lin and Winding Refn will all join him in having meetings soon to discuss the project.
Both Lin and Winding Refn have a slew of projects already on their plates. For Lin, there's a sixth Fast and Furious film (which already has a release date), the Highlander remake as well as the new Terminator film just to mention a few. Winding Refn seems pretty confident that he and Ryan Gosling will go on to Only God Forgives next, plus they both have the Logan's Run remake somewhere down the road. As a fan of both Lin and Winding Refn's latest movies, Fast Five and Drive (hey that rhymes!), I'd love to see either take a crack at a Die Hard movie. Especially Winding Refn because he's certainly fight for a more grounded sense of action, something Live Free or Die Hard sorely lacked.
But, if I were a betting man, because of their packed schedules, I'd probably put these two as likely "passes." That leaves Cornish, whose directorial debut Attack the Block is obviously something we here at /Film are massive fans of and Moore, whose films "don't come even close to a Fresh rating on Rotten Tomatoes, for what that's worth," according to Angie.
As far as we know, Cornish has yet to pick his follow-up film so he's surely a fan favorite. Die Hard 5 would be a mighty step up after a film that took place largely in one location but, with the right team and budget, that shouldn't be a problem. However, one would have to guess that he's a bit too much of a wild card and that, when all is said and done, Fox will go with the dependable choice of Moore.
What do you think about all this?