Official Synopsis For 'American Reunion' Revealed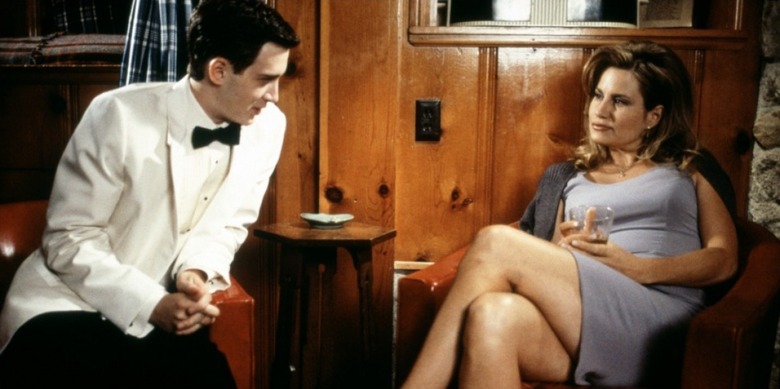 We're already aware of many of the plot points that'll be covered in American Reunion, the forthcoming eighth(!) installment of the American Pie franchise. Basically, the new film will see the whole gang from the first film come together once more for their high school reunion. Some things will have changed; other things not so much. (I'm going to guess that the gross, raunchy humor will be part of the "not so much" category.)
Now a new synopsis has been revealed, and it reveals just one more tidbit: Apparently, one of the characters is still pining for a certain lusty lady whom he bedded in the original American Pie. (Um, spoilers for a twelve-year-old movie.) Read the studio-approved official plot details after the jump.
In the comedy American Reunion, all the American Pie characters we met a little more than a decade ago are returning to East Great Falls for their high-school reunion. In one long-overdue weekend, they will discover what has changed, who hasn't and that time and distance can't break the bonds of friendship. It was summer 1999 when four small-town Michigan boys began a quest to lose their virginity. In the years that have passed, Jim and Michelle married while Kevin and Vicky said goodbye. Oz and Heather grew apart, but Finch still longs for Stifler's mom. Now these lifelong friends have come home as adults to reminisce about—and get inspired by—the hormonal teens who launched a comedy legend.
It's been known for a while that both Eddie Kaye Thomas and Jennifer Coolidge would be reprising their roles for the new film, but if I'm not mistaken, this is the first we've heard of his still mooning over her. It's not a terribly surprising plot development, considering that the two have crossed paths (yep, that's what I'm calling it) in each of the three films featuring the original cast, but I suppose it's nice to know we can look forward to that dynamic once again.
Aside from that minor plot point, the rest of the synopsis covers info we've already covered. Jason Biggs, Seann William Scott, Alyson Hannigan, Thomas Ian Nicholas, Chris Klein, Eugene Levy, Tara Reid, Shannon Elizabeth, Mena Suvari, and Natasha Lyonne are all set to return; newcomers Chuck Hittinger, Jay Harrington, Ali Cobrin, Dania Ramirez, and Katrina Bowden will co-star as well. Written and directed by Jon Hurwitz and Hayden Schlossberg, American Reunion will hit theaters April 6, 2012.