Teaser Of 'The Avengers' Teaser Trailer After 'Captain America'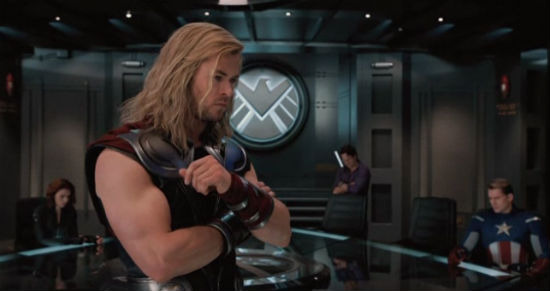 Sorry, we don't have the full The Avengers teaser trailer that's after the credits of Captain America: The First Avenger just yet. What we do have, thanks to Yahoo Movies and Paramount, is a sneak peak at that tease and the promise that The Avengers footage will only be seen in theaters. So, if you don't want to see Captain America (and you should, it's solid) this is as good as you are going to get in official, high definition, form.
Though, to see it, you'll have to sit through 30 seconds of MAJOR SPOILERS that happen at the end of Captain America: The First Avenger.
Here's the clip. Again, this is the end of Captain America followed by a tease of The Avengers tease. Enjoy.
The actual Avengers scene is about double that length, with more shots, and a sort of prologue that jumps off from the fact that Cap has been asleep for 70 years. When I saw it in the theater, the place erupted. What about you?