Antoine Fuqua To Direct 'Storming Las Vegas' For Summit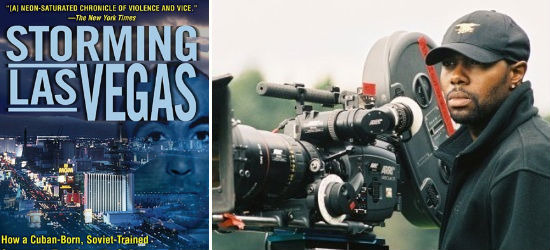 We may receive a commission on purchases made from links.
Summit Entertainment, those crazy cats behind the Twilight movies and distributors of Best Picture winner The Hurt Locker, have just picked up another book and attached some pretty big names to it. Antoine Fuqua will direct Storming Las Vegas under the watchful eye of producer Lorenzo di Bonaventura. To explain what Storming Las Vegas is about, one only needs to read the actual, full title of the book by John Huddy. The full title is "Storming Las Vegas: How a Cuban-Born, Soviet-Trained Commando Took Down The Strip to the Tune of Five World Class Hotels, Three Armored Cars, and Millions of Dollars." Yup. Got it. More after the jump.
Deadline broke the news of the deal to adapt the book, which is based on a true story. They're calling it modern day Robin Hood story set in the mid-1990s when a man named Jose Vigoa battled against Vegas's increasingly family friendly image by going on a 16-month crime spree targeting the biggest casinos on the strip.
Here's the Publisher's Weekly description from Amazon:
Network producer and onetime Miami Herald columnist Huddy tells a gripping story of greed, violence, theft and public relations. Las Vegas had just launched its new blitz of advertising—advancing itself not as Sin City but as a family-friendly vacation destination—when Jose Vigoa (a Cuban-born commando veteran of the Soviet Army) hit town in the late 1990s. Vigoa and a small crew embarked on a violent 16-month crime wave, targeting some of the Strip's most prominent (and, as Vigoa showed, vulnerable) institutions. A 23-year veteran of the Las Vegas Police Force, Lt. John Alamshaw was charged with finding and capturing the men behind the crime spree—without allowing the robberies to become national news and spoil Vegas's new image. Huddy traces Vigoa's personal history from his childhood in Castro's Cuba to fighting for the Red Army in Afghanistan, his return to Cuba and eventual resettlement in the United States. Then he chronicles the Cuban's increasingly audacious grabs for Vegas riches and his ultimate sentencing to more than 500 years in prison with no possibility of parole. This debut is a must for true-crime enthusiasts.
With no script in place, there's no word when this project could happen. Fuqua himself has a few movies on his plate including Southpaw starring Eminem and The Tomb, also at Summit.
Does this movie sound like something you'd be into?