Gallery: The Men Of 'Warrior' Featuring Tom Hardy And Joel Edgerton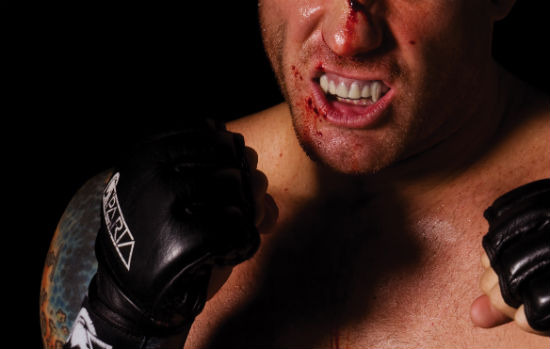 Whether it's from a punch to the jaw or ogling women, when you cast two of the most sought after male actors in Hollywood as feuding siblings dead set on a mixed martial arts championship, odds are you're going to turn a few heads. Tom Hardy and Joel Edgerton do just that in the upcoming sports drama Warrior, directed by Gavin O'Connor. Hardy is a Marine home from war who asks his recovering alcoholic father, played by Nick Nolte, to train him for a massive fight tournament. Simultaneously, and unbeknownst to them, the pair's estranged brother/son, played by Edgerton, is training for the same tournament.
I've seen Warrior and while I'm technically embargoed from publishing my thoughts, I will say this is a movie you'll want on your radar. It doesn't matter if you're an MMA fan or just a fan of great drama and acting, Warrior delivers the goods. Big time. Plus it'll make you even more excited to see Tom Hardy play Bane.
The movie opens September 9 and, for now, you can see how dedicated the actors were to their roles in these portraits by Tim Palen. They're part of an upcoming book called The Men of Warrior but be forewarned. There's a whole lot of man flesh after the jump.
Thanks to Vulture for the first heads up on these images, of which these are just a small sampling.
You get the sense that these guys really went all out for these rolls and, again without saying too much, it also comes across on screen. Warrior hits theaters on September 9.
And if you like the images above, here's the press release for the book they're in:
Lionsgate and publisher Insight Editions are thrilled to announce "The Men Of Warrior." Featuring fine art portraits by acclaimed photographer Tim Palen, the book is a companion to the highly anticipated film WARRIOR, which will be in theaters everywhere on September 9, 2011.
"The Men Of Warrior" features stunning photographs of the actors and fighters featured in the film, including Tom Hardy, who also wrote the book's foreword, Joel Edgerton, Erik Apple, Nate Marquardt, and Ron "RJ" Messenger.  In its pages, Hardy and Edgerton show off their hard-earned fighting bodies and bloodied upper lips, capturing the tough and dramatic world of WARRIOR in a series of iconic images, all of which are poster-worthy.
Said CEO of the book's publisher Insight Editions Raoul Goff of the book's release, "Insight Editions is proud to include Tim Palen to our list of award-winning photographers as we release the larger-than-life fine art photography book "Men of Warrior."
The 128 page book will be on shelves at brick and mortar book sellers nationwide beginning one month before the film's release, on August 9th, and is currently available for pre-sale on Amazon, Borders, and Barnes & Noble's websites.