'The Ides Of March' Trailer And Poster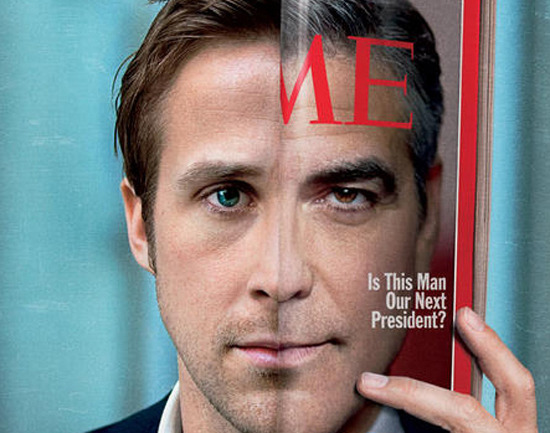 I'll say this for the trailer for George Clooney's new political drama The Ides of March: by the end I had no sense that I knew exactly where the movie is going. That's a very good thing.  Adapted from Beau Willimon's play Farragut North, the film features Ryan Gosling as a young but influential press secretary who has to manage a political scandal as he navigates the tricky waters of a Presidential primary race. Paul Giamatti, Philip Seymour Hoffman, Evan Rachel Wood and Marisa Tomei co-star, and the film looks pretty damn solid from here.
George Clooney co-wrote the film with his producing partner Grant Heslov. Here's the play's synopsis:
Stephen is a wunderkind press secretary who has built a career that men twice his age would envy. During a tight presidential primary race, however, Stephen's meteoric rise falls prey to the backroom politics of more seasoned operatives, and his one night stand with a teenage staffer proves to be more complicated than casual. Farragut North is a classic tale of hubris set against a contemporary landscape – about the lust for power and the costs one will endure to achieve it.
And this is the quick recap of the film, which now opens on October 7 after a premiere at the Venice Film Festival:
During the frantic last days before a heavily contested Ohio presidential primary, an up-and-coming campaign press secretary finds himself involved in a political scandal that threatens to upend his candidate's shot at the presidency.