'Mission: Impossible – Ghost Protocol' Moves Back A Week; 'One Shot' Dated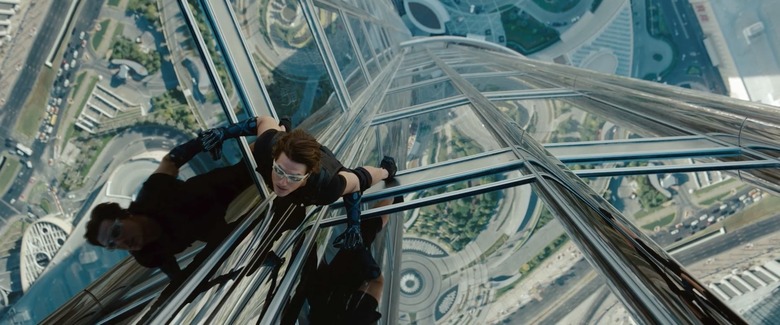 This December's embarrassment of riches for film fans just got a little easier to navigate. Paramount has slightly shifted the release of Mission: Impossible Ghost Protocol from December 16 to December 21. That moves it away from the similarly action packed Sherlock Holmes: A Game of Shadows (and Alvin and the Chipmunks: Chipwrecked) on the 16th and puts it up directly against David Fincher's The Girl With the Dragon Tattoo. Then, two days later on the 23rd, the flood gates really open with The Adventures of Tintin, The Darkest Hour and We Bought A Zoo.
Plus, another Paramount/Cruise property, the Christopher McQuarrie-directed One Shot, has just been given a February 8, 2013 release date, more or less assuring it'll be Cruise's next film after Rock of Ages but before Oblivion. Read why we think the release dates shifted after the break.
Deadline reported the news of these release dates. As pertaining to Mission: Impossible, the idea does make technical sense. Moving the film away from Sherlock Holmes, which is also aimed at young males, negates the possibility of those two films sharing an opening weekend audience. Then, by opening the Wednesday before Tintin, it has the chance to roll into the holiday weekend with some momentum. Paramount obviously feels that The Girl With the Dragon Tattoo plays to a different demographic.
Granted, none of this will matter if one film gets significantly better, or worse, reviews going into the holiday season. There's plenty of box office bounty to be had and in such a crowded marketplace, headlines – even box office headlines – get people's attention. That's got to be the sole reason for the Mission Impossible move.
As for One Shot, the film still doesn't even have an official greenlight, though Cruise is attached to start in what Paramount hopes could be another franchise, especially since it's rumored he passes the torch to Jeremy Renner in Ghost Protocol. Read more about One Shot here.