'Red State' Gets Oscar Qualifying Run, New Poster And Trailer; Kevin Smith Co-Hosting Talk Show Pilot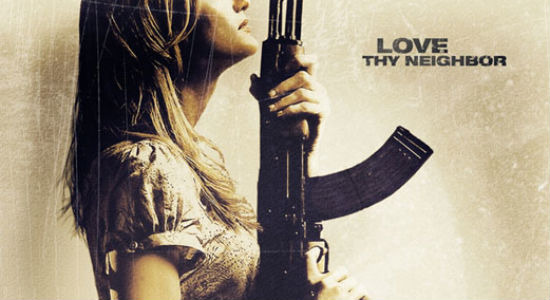 When we last left Kevin Smith's ever-evolving world of pop culture, he announced that Red State would hit Video On Demand in September, followed by an innovative theatrical tour complete with digital Q&A sessions. Oh, and he was also working on a reality show set in a comic book shop. Both of those stories have been slightly expanded this week as Red State will get a Los Angeles theatrical run from August 19-25 at the New Beverly Cinema, officially qualifying the film for the Academy Awards. And there's a new trailer and poster to go along with it.
Next up, in addition to developing that reality show, Smith is currently shooting a talk show pilot that will be sort of his own unique blend of Regis & Kelly and The Daily Show. Read more about both after the jump.
Starting with Red State, here's the new trailer. It's not officially "Red Band" but should be considered as such as it's filled with language and violence. Probably NSFW.
Then, there's this new poster that – if we're being honest – is the best representation of the movie to date.
Thanks to The SIRmon for the heads up on both of those things. Tickets are also now on sale for the Red State New Beverly run. They're $20 each, which is about three times what movies usually cost there, but Smith will be on hand for almost all of the screenings.
Oh, and if you are in Canada, tickets are also on sale for the Red State Provinces Tour beginning August 14.
Moving away from Red State, Smith called out to his Twitter followers Tuesday asking if anyone in Los Angeles would want to be part of the audience for a TV pilot that he'd be hosting all week. Vulture followed up that surprise announcement with a bunch more info. Here's what they uncovered:
Smith's reps are telling celebs that the tentatively titled Kevin Smith Project will be "a daily 30-minute entertainment talk show for syndication ... The idea is a Regis and Kelly talk show at the opposite end of the day for the opposite kind of audience — the 12-34 demo. Kevin and his co-host will talk water-cooler topics at the top of the show, followed by a celebrity interview and a comedy segment from the field (a la The Daily Show). Each show will feature one celebrity interview." The message also gives a hint as to which studios might be behind the project: "The show is being positioned to air following TMZ, in the 6-8pm time period on the Fox stations in all the major markets." TMZ hails from Warner Bros. Television's Telepictures unit, so that studio could be a likely home for Smith; the Fox stations also could be behind the show via their sister studio, Twentieth Television.
If you've heard any of Smith's Q&A's, his podcasts, or shows on S.I.R., you know he has the personality for something like this. The biggest issue I foresee is that Smith is at his best when he's uncensored. If the show really was being positioned for Fox, would you want to see a G-rated Smith?