'The Hunter' Trailer: Willem Dafoe Pursues The Last Tasmanian Tiger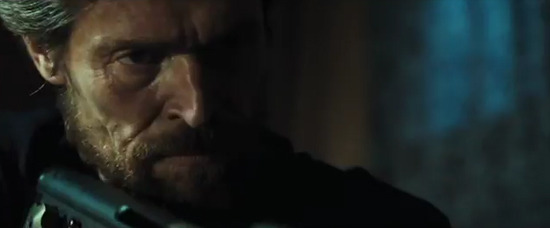 Our first word on The Hunter came late last year when we learned that Daniel Nettheim would direct Sam Neill, Willem Dafoe, Frances O'Connor and more in an adaptation of Julia Leigh's novel of the same name. Willem Dafoe plays a character who claims to be on the hunt for one thing, but is in reality working for a larger entity and seeks a more specific game: the last Tasmanian tiger.
Now there is a little bit of extra weight behind the project, as Julia Leigh has emerged as the director of the unusual Cannes entry Sleeping Beauty, featuring Emily Browning as a very specific sort of prostitute. Julia Leigh, as best I know, had nothing to do with this adaption of her novel, but the fact that this novel is from her pen certainly adds a layer of interest to The Hunter for me.
The Hunter has been announced as a Toronto Film Festival entry, and a teaser trailer is now available. Check it out below.
The trailer is gorgeous, but really gives me no idea of how the movie really plays. I'm on the hook now, though.
This is a portion of the synopsis of the novel; I've cut out the second half as it is fairly spoilerish, but you can read more here if you want the extra detail.
[The Hunter] describes the deadly search for the fabled, and perhaps extinct, Tasmanian tiger, aka the thylacine. A mysterious man who is identified to the reader only as M assumes the identity of "Martin David, naturalist" and arrives at the filthy, disheveled house of depressed Lucy Armstrong, whose husband, Jarrah, a naturalist and bioethics expert, recently disappeared on the plateau. Lucy's home becomes the base for M's treks into the wilderness, ostensibly to study the habits of Tasmanian devils.
[via IndieWire]