'Battleship' Trailer: Fire Your Guns!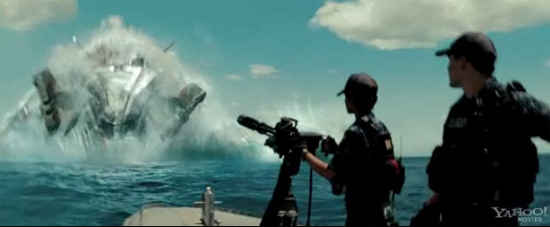 Universal and Peter Berg reportedly spent two hundred million on Battleship, and with the official trailer premiere you can start to make a dollar-per-pixel tally of just where that money went. This is more like a chunk of the first big battle sequence in the film rather than a conventional trailer — no hiding the otherworldly bad guys in this one. Check it out below.
Hit Yahoo for the HD.
OK, we get it. Taylor Kitsch plays a bad boy who has to grow up real fast when a bunch of aliens build an energy dome around his ships during maneuvers. If you've been waiting for some combination of the Transformers films, Pearl Harbor and Skyline, this might be your movie. But why lose the thundering c**k-rock in the second half? Is the action really that serious? A prime opportunity to use some AC/DC was missed here, I think.
As for any relationship to the tabletop game after which the movie is named (and licensed) we do see the aliens actually firing pegs (pegs!) into the US ships, and there is an overhead shot that suggests the game as well.
Peter Berg directed Taylor Kitsch, Alexander Skarsgard, Liam Neeson, Brooklyn Decker, Rihanna, Josh Pence, Jesse Plemons and Peter MacNicol in the film. Battleship opens May 18th, 2012.
Peter Berg (Hancock) produces and directs Battleship, an epic action-adventure that unfolds across the seas, in the skies and over land as our planet fights for survival against a superior force. Based on Hasbro's classic naval combat game, Battleship stars Taylor Kitsch as Lt. Alex Hopper, a Naval officer assigned to the USS John Paul Jones; Brooklyn Decker as Sam Shane, a physical therapist and Hopper's fiancée; Alexander Skarsgård as Hopper's older brother, Stone, Commanding Officer of the USS Sampson; Rihanna as Petty Officer Raikes, Hopper's crewmate and a weapons specialist on the USS John Paul Jones; and international superstar Liam Neeson as Hopper and Stone's superior (and Sam's father), Admiral Shane.