'Dirty Girl' Trailer: Juno Temple Hits The Road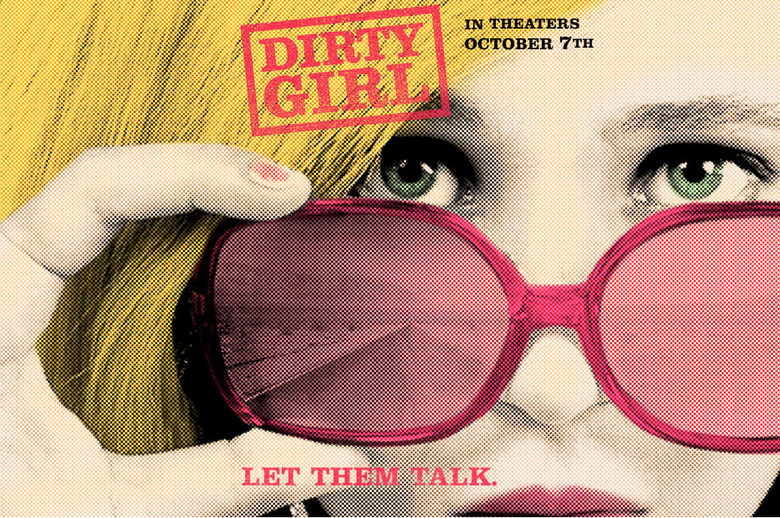 Here's the trailer for Dirty Girl, the film that Harvey Weinstein picked up after it debuted at TIFF last year. The mogul put on his 'Harvey Scissorhands' name badge when dealing with this one, having nearly 20 minutes cut out of the original 109-minute running time to bring it into the realm of a broad, more mainstream 90-minute comedy. Director Abe Sylvia reportedly likes the cut, and this first trailer for the edited version certainly suggests something broad and not terribly challenging.
Juno Temple, the rising British star who appeared in Atonement, Notes on a Scandal and Kaboom before landing a role in The Dark Knight Rises, plays a brassy, raunchy and confrontational Oklahoma high school girl in 1987. She and her in the closeted best friend (played by Jeremy Dozier, who looks like the film's highlight) road trip to California to find the girl's real father.
The trailer plays up loads of familiar high-school and roadtrip comedy tropes: the disapproving teachers, clueless parents and clucking classmates. There's a sack of flour standing in for the baby in the roadtripping couple's quirky not-quite-nuclear family, and all the hallmarks of '80s nostalgia that are now so familiar. Lots of speedbumps on this road, in other words. But the film is based on some of Abe Sylvia's own experiences in high school — Juno Temple's character is drawn from a girl he knew at one point — and I'm hoping that personal connection remains tangible in this Harvey edit.
Hit Apple for HD.
"Dirty Girl" is the story of Danielle (Juno Temple), the dirty girl of Norman High School in Norman, Oklahoma, circa 1987. When Danielle's misbehavior gets her banished to a remedial class, she is paired on a parenting project with Clarke (Jeremy Dozier), an innocent closet-case with no friends. Danielle is determined to get to California to find the father she's never met, and Clarke is desperate to escape being sent to military school by his homophobic dad. Together, the mismatched misfits light out for California, and discover each other and themselves through a funny and serendipitous friendship.
Dirty Girl opens limited on October 7th, 2011.