'Bunraku' Trailer – Josh Hartnett, Woody Harrelson And Gackt Face Off Against Ron Perlman In Genre-Bending Action Flick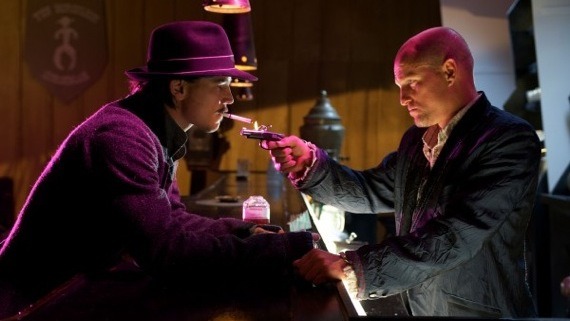 Earlier this year, we posted a trailer for Guy Moshe's Bunraku, only to be asked by the producers to take it down when it turned out that the video we'd shown was not the official trailer. We promised then that we'd re-post when the producer-approved version surfaced, and now here it is.
The super-stylized samurai/Western/noir flick stars Josh Hartnett, Woody Harrelson, and Japanese musician/actor Gackt star as a drifter, a bartender, and a samurai, respectively, who join forces to take down a powerful crime boss (Ron Perlman). Demi Moore and Kevin McKidd also appear. Watch the 100% official trailer after the jump.
[via FirstShowing]
I haven't seen the film myself, but as the film played TIFF last year, reviews aren't terribly difficult to come by. And to be blunt, it doesn't sound like anyone liked it all that much. Our own Peter Sciretta caught part of the film at the festival, and here's what he had to say about it:
On the surface, this is the type of film that readers of /Film should love, but it isn't something that I can rightfully recommend to everyone... [A]t almost two hours, it is overlong, and offers some cool style and ideas but little substance.
That's basically the impression I got from the trailer as well — Bunraku certainly has a distinctive look, but based on just this trailer, the characters, plotting, and dialogue seem undercooked and unoriginal.
If you're still interested in checking out the film, Bunraku will be released on VOD September 1 and in theaters September 30.
Synopsis:
A mysterious drifter (Josh Hartnett) and an ardent young Japanese warrior Yoshi (Gackt) both arrive in a town that has been terrorized by outrageous and virulent criminals. Each is obsessed with his separate mission, and guided by the wisdom of The Bartender (Woody Harrelson) at the Horseless Horseman Saloon, the two eventually join forces to bring down the corrupt and contemptuous reign of Nicola (Ron Perlman), the awesomely evil "woodcutter" and his lady Alexandra (Demi Moore), a femme fatale with a secret past. This classic tale is re-vitalized and re-imagined in an entirely fresh visual context, set in a unique world that mixes skewed reality with shadow-play fantasy, a place where even the landscape can betray you. Heroes triumph here only because the force of their will transforms and transcends both space and time. The world of BUNRAKU is past and present, fantasy and reality, Samurai and Western all combined. Like SIN CITY and 300, it gives classic conflict a whole new graphically supercharged dynamic. Resonating through a wide range of cultures and showcasing a mind-blowing array of martial arts disciplines, BUNRAKU is a fresh arena for breathtaking fight action.
Discuss: Will you watch Bunraku?